The centre promotes research on the following broad themes:
Our CORTH research infographic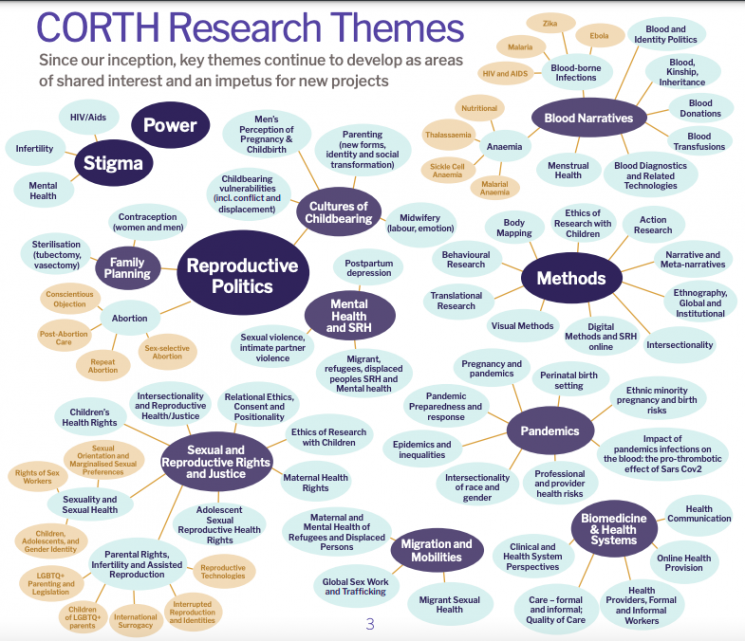 Childbearing and maternal health
Diverse cultures of pregnancy, conception, and birth practices; midwifery and development discourse; constructions of safety and risk in maternity and midwifery; ante-natal and post-natal maternal health and care practices; conceptions of the self and reproductive body; experiences and perceptions of maternal morbidity; adolescent reproductive health; social implications of miscarriage, maternal and foetal mortality; maternal health and cultures of commodification, market economies and neo-liberalism.


Interrupted reproduction and identities
Lived experience and perceptions of menstruation, menopause, andropause;
social and cultural implications of interrupted reproduction such as male and female infertility, fistula, endometriosis, breast, ovarian and cervical cancers. Stigma in the context of sexually transmitted infectious disease such as HIV and AIDS.


Reproductive technologies
Social and cultural engagement with technologies of contraception, abortion, assisted reproductive technologies (IVF and related), pre-natal and reproductive diagnostics and testing; selective technologies; ultrasound scan and foetal personhood; surrogacy; global flows of technologies and technology regulation.


Sexual and reproductive health rights and justice
Ground-up approaches to sexual and reproductive health inequalities; rights, justice, and citizenship; sexual reproductive health activism; critical analysis of state and NGO rights-based health programmes; health in the context of sexual and gendered violence; environmental crises and reproductive health rights; ethical issues and reproductive violence.


Population policies, family forms and legislation
Bio-politics and gender based family planning; contraceptive practices and changing demographics (young and ageing populations); sex selection and family making; social implications of reproductive ageing; reproductive moralities and legislation on bodily rights.


Research methods
Ethnographies of global health, hospital and clinic ethnography; collection, use and governance of reproductive health information; multi-sited and transnational research; photo-voice and visual narrative; combined qualitative and quantitative approaches; translational research methods.


Related areas of interest include:

Migration, mobilities and global reproductive health:
Reproductive and sexual economies: labour, circulation and exploitation; care economy; internal and transnational migrant sexual health.

Health-care cultures, medical systems and professionals:
Care practices and perceptions of nurses, midwives, gynaecologists and obstetricians, health visitors and carers, lay health workers, medical councils and regulation, authenticity of citizen/patient participation.

Environment, health and climate change:
Water and reproductive health; food insecurity, anemia and malnutrition; nutrition and infant care practices; environmental activism and health.

Reproductive and sexual health policy and education:
Social and cultural analyses of interventions such as 'couple counselling' and general counselling support in HIV; maternal and child mortality policies and programmes; sexuality and education; education and health promotion messages; social networking technologies in the delivery of healthcare and health education.

Media, communication and representation:
Visual cultures in reproduction; politics and representation in newspapers, internet, TV, films, education materials, social networks; reproductive information in a digital world.