Developing negotiation skills
Using key negotiation theories and concepts, this course aims to develop your negotiation skills in a variety of contexts. The course achieves these goals through the use of negotiation simulations that allow you to learn about your negotiation strengths and weaknesses.
Why study this course?
The course is for you if you:
want to become more influential and persuasive
want to develop your negotiating skills across a variety of contexts
are looking to grow and challenge yourself personally and professionally
want to improve your skills while working with other like-minded professionals
have significant practical experience with negotiations or if you are just starting out in your career.


---
About the course
This five-week negotiations course is beneficial for experienced negotiators as well as people without formal negotiations training or experience. Regardless of your background or experience, everyone can benefit from challenging themselves and practicing their negotiation skills in a low-risk environment. The benefits of improving your negotiating skills are vast. We all negotiate regularly at work and in our lives outside of work. Becoming more influential and persuasive will allow you to work better with others and achieve your goals.
Course structure

Throughout the course, you will complete a variety of negotiation simulations and activities designed to test and develop your negotiation skills in a variety of contexts. First, we will cover the basic fundamental concepts that apply to all negotiations. Then, we will put these concepts into practice by focusing heavily on in-class negotiation simulations. We will start with two-party, single issue negotiations then take on more complex negotiations with multiple parties and multiple issues. By the end of the course, you will have increased your negotiation skills and developed the confidence to engage in negotiations of all kinds.

Structure by week

Week 1: Fundamental Negotiation Concepts

Week 2: Fundamental Negotiation Concepts II

Week 3: Two Party, Single Issue Negotiations

Week 4: Two Party, Multiple Issue Negotiations

Week 5: Multiple Party, Multiple Issue Negotiations

Learning outcomes

At the end of this course, you'll be able to:

demonstrate a critical understanding of the central features of negotiations, including:

u

nderstanding your own negotiating style,

u

nderstanding the role of psychology, language,

communication skills, interpersonal skills, culture and gend

er in negotiations

identify and critically evaluate

various negotiation strategies within

different

organisational, behavioural and psychological context

s

develop a critical understanding of your own strengths and weaknesses as a

negotiator

an

alyse the likely success of negotiation strategies and critically evaluate alternatives

understand the organisational, behavioural, and psychological issues relating to the

negotiation process.
About the Business School
We focus on contemporary organisational issues, business challenges and societal problems with a strong emphasis on people, process and technology management.
With expert academics, research-informed teaching and excellent rates of graduate employability, studying in our department prepares you to deal with contemporary global issues in management. Our research, carried out by internationally renowned scholars, asks relevant questions to meet current and future challenges with international impact.
Find out more about the University of Sussex Business School.
---
About the tutor
Benjamin Everly
Senior Lecturer in Organisational Behaviour and Head of Department, Management.
Benjamin joined the University in September 2013 after completing his PhD at the UCLA Anderson School of Management. Since joining Sussex, Benjamin has helped students develop their negotiation skills across a variety of modules. He has also provided bespoke negotiations training to external organisations. Benjamin's research focuses on intergroup relations and diversity management. His work explores how the presence and disclosure of diverse identities influence the attitudes and behaviour of individuals in the workplace. As well as how diversity impacts organisational performance and how organisations can best manage a diverse workforce.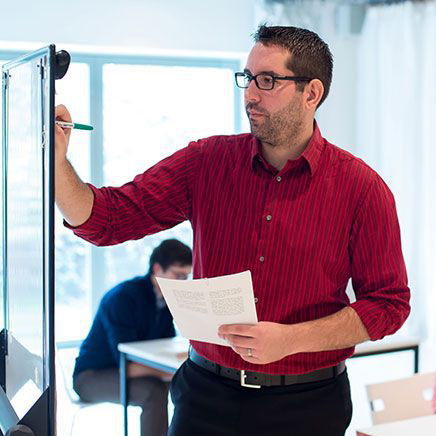 ---