CLHLWR's Visiting Research Fellow Dr Jenna Bailey is currently researching a book about Ivy Benson and Her All Girls Band. Ivy Benson was a musician who started her all female big band orchestra in 1940. She rose to fame during the Second World War when her band became the BBC Resident Dance Band in 1943. From then onwards, Ivy and her girls were a household name and were top of the bill while touring England. They also toured Europe yearly and had a massive following amongst the British and American troops. Ivy maintained her band until 1983, with over 300 women working for her throughout the years.
Jenna's book is the story of Ivy's band as well as the biography of Ivy and the various girls that came and went throughout the years. Jenna is collecting Ivy Benson related stories and is happy to hear from anyone via her website at www.jenna-bailey.com.
On 28 January 2014 Jenna gave a talk to a full lecture room about the Ivy Benson Band at the University of Sussex.
Playing on the Margins of History: The story of the Ivy Benson Band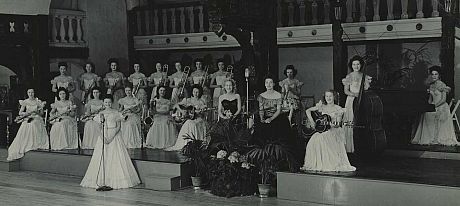 The Ivy Benson Band (photographer unknown)
Using material from over 80 oral history interviews, Jenny discussed how gender, class and sexuality influenced the lives and careers of the musicians who played in the Ivy Benson Band, the first nationally known and longest running all girl band in British history.
Pictures taken during and after Jenna Bailey's talk about the Ivy Benson Band event, 28 January 2014
Bailey's best-selling book Can Any Mother Help Me? is based on a collection of private papers in the University of Sussex's Special Collections (since December 2013 located at The Keep), and was published by Faber and Faber in 2007.