The oral history of the art history department of the University of Sussex
The CLHLWR is proud to have been advising and working with the Department of Art History at Sussex University on carrying out an oral history of the department in preparation for its 50th anniversary. The 2017-2018 project was directed by Dr Flora Dennis with Dr Alexandra Loske as researcher, who conducted the interviews. Alexandra, an art historian herself, was trained by the CLHLWR to become an oral historian.
14 interviews with former students, staff and faculty that form an archive of experiences from different perspectives and moments in the department's history were collected during the project, alongside pictorial and other material. This is now located at The Keep. We marked the official handover of the material wih this event 7 June 2023:
'It's not just about pictures': An oral history of Sussex Art History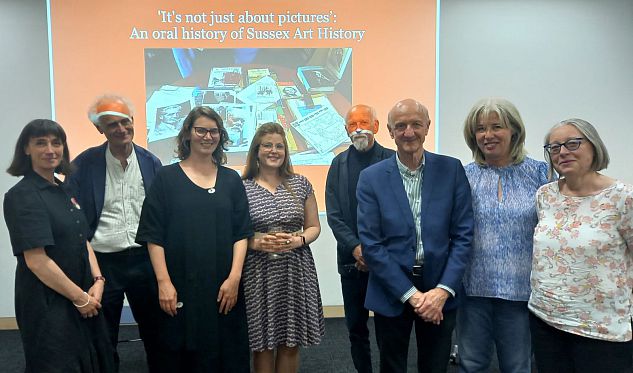 To mark the handing over of the project to the collections at The Keep, this event included contributions from sociologist and library professional Dr Alice Corble, specialist in Sussex Modernisms, Dr Hope Wolf, and Emeritus Professor Maurice Howard OBE, as well as reflective responses on the project from a panel of current Art History students.
Impressions from the handover of the Art History Oral History materials on 7 June 2023, The Keep
Organised by Dr Alexandra Loske, Prof Flora Dennis and Prof Margaretta Jolly, with the support of the Centre for Life History and Life Writing Research
Brief project description:
In 2017-18 the Art History department at the University of Sussex celebrated its 50th anniversary. As part of 'Sussex Art History at 50', we carried out an oral history of the department, interviewing current and former faculty, support staff and students.
The project explored questions such as the role of Sussex in the development of Art History over the past 50 years and the ways in which Art History at Sussex has been shaped by its interdisciplinary context. It asked participants to discuss what for them is distinctive about Art History at Sussex.
We wanted to use this opportunity to reflect on our department's intellectual origins, history and identity and explore how we will continue to develop in the future. Interviewees inlcuded Professor Maurice Howard, Professor David Allan Mellor, Dorothy Scruton, Julian Bell, Nicola Coleby, Gilane Tawadros and others.
On 25 November 2017 there was a symposium celebrating the 50th anniversary of the Art History Department at Sussex University.
Alumni and ex-members of staff are invited to share their own memories about Art History at Sussex at this Facebook group:
https://www.facebook.com/groups/SussexArtHistoryat50/
Twitter handle: @SussexArtHisto1