Latest news and publications

Class of '37: Voices from Working-class Girlhood.
By Hester Barron

and

Claire Langhamer
John Blake Publishing Ltd, 2021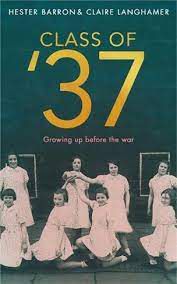 It is 1937 in a northern mill-town and a class of twelve- and thirteen-year-old girls are writing about their lives, their world, and the things that matter to them. They tell of cobbled streets and crowded homes; the Coronation festivities and holidays to Blackpool; laughter and fun alongside poverty and hardship. They are destined for the cotton mill but they dream of being film stars. Class of '37 uses the writing of these young girls, as collected by the research organisation Mass Observation, to rediscover this lost world, transporting readers back in time to a smoky industrial town in an era before the introduction of a Welfare State, where once again the clouds of war were beginning to gather. Woven within this rich, authentic history are the twists and turns of the girls' lives from childhood to beyond, from their happiest times to the most heart-breaking of their sorrows. A compelling social history, this intimate reconstruction of working-class life in 1930s Britain is a haunting and emotional account of a bygone age.
Select publications by CLHLWR members
Bailey, Jenna (2007), Can Any Mother Help Me?, Faber and Faber
Bailey, Jenna (2015), Reader: 'A Grief Observed' by C.S. Lewis, Faber and Faber
Barron, Hester and Claire Langhamer (2021) Class of '37: Voices from Working-class Girlhood, JohnBlake Publishing Ltd.
Best, Clare (2019), Each Other, Waterloo Press
Best, Clare (2018), The Missing List – A Memoir, Linen Press
Brade, Laura E. and Rose Holmes (2017), 'Troublesome Sainthood: Nicholas Winton and the Contested History of Child Rescue in Prague, 1938–1940', History and Memory, Vol. 29, No. 1 (Spring/Summer 2017), pp. 3-40. Indiana University Press
Cairns, T (2003), 'Citizenship & Regeneration: Participation or Incorporation' P. Coare & R. Johnston, ed., in Adult Learning, Citizenship & community voices: Exploring community-based practice, pp. 108-123, Leicester: NIACE
Callaghan, Joanna and Kerrigan, Susan (2019) 'The impact of filmmaking research.' Media Practice and Education, 19 (3). pp. 229-242.
Campos, Ângela (2017), An Oral History of the Portuguese Colonial War: Conscripted Generation (Palgrave Studies in Oral History, Palgrave Macmillan)
Carroll, S (2010), 'Danger! Official Secret. The Spies for Peace: Discretion and Disclosure in the Committe of 100.' History Workshop Journal, 69 (1), 2010:158-176

Cole, Rachel & Jeremy

Page

, with Sally Willow and Katie Leacock (eds.) (2015),

True Tales from the Old Hill, Lewes: The Frogmore Press, 2015
Courage, Fiona and Scantlebury, Jessica (2013) 'Mass Observing sport'. In: Recording leisure lives: sports, spectacles and spectators in 20th century Britain. LSA Publication (121). London, pp. 1-13.
Einhorn, B (2014), Citizenship in an Enlarging Europe: From Dream to Awakening, Basingstoke : Palgrave Macmillan
Hendy, David (2018) 'Afterword radio modernisms: features, cultures and the BBC.' Media History, 24 (2). pp. 283-287.

Hitchcock, Timothy

(2018) 'Digital affordances for criminal justice history.' Crime, History & Society, 21 (2). pp. 335-342.
Hitchcock, Timothy (2017) 'The body in the workhouse: death, burial, and belonging in early Eighteenth-Century St Giles in the Fields.' In: Braddick, Michael J and Innes, Joanna (eds.) Suffering and happiness in England 1550-1850: narratives and representations: a collection to honour Paul Slack. The Past and Present book Series. Oxford University Press, Oxford, pp. 153-173.

Hitchcock, Tim and Robert Shoemaker (2015),

London Lives: Poverty, Crime and the Making of a Modern City,

Cambridge: CUP

Highmore, B (2017) Cultural Feelings: Mood, Mediation, and Cultural Politics, Oxford and New York: Routledge.
Highmore, B (2017) The Art of Brutalism: Rescuing Hope from Catastrophe in 1950s Britain, New Haven and London: Yale University Press and the Paul Mellon Centre for Studies in British Art
Holmes, Rose (2017), 'Love, labour, loss: women, refugees and the servant crisis in Britain, 1933–1939', Women's History Review, Routledge, DOI: 10.1080/09612025.2017.1327096
Holloway, Gerry (2005), Women and Work in Britain since 1840, London: Routledge.
Hughes, Ed and Thynne, Lizzie (2018) Symphonic Visions: music for silent films. [Video]
Hunt, C (2000), Therapeutic Dimensions of Autobiography in Creative Writing, Jessica Kingsley, London
Hunt, C (2006) with Fiona Sampson, Writing: Self and Reflexivity, (Palgrave Macmillan), pp.212.

Jacques,

Juliet (2017), '

Forms of Resistance: Uses of Memoir, Theory, and Fiction in Trans Life Writing', in:

Jolly, Margaretta (2017), 'After the Protest: Biographical Consequences of Movement Activism in an Oral History of Women's Liberation in Britain.' In The Women's Liberation Movement: Impacts and Outcomes edited by Kristina Schulz. Oxford: Berghahn
Jolly, Margaretta (2012/2017), 'Biography and Autobiography.' In Oxford Bibliographies Online: British and Irish Literature, Online. Oxford: Oxford University Press
Jolly, Margaretta (2007), In Love and Struggle: Letters in Contemporary Feminism, New York : Columbia University Press.
Jolly, Margaretta (2015), 'Life Writing Studies from 1970s to the present'. An interview with Margaretta Jolly, Journal of Modern Life Writing Studies, 2015, No. 5.
Jolly, Margaretta (2015), 'My Astonishing and Adventurous Mother', in Thank you, Madagascar: The Conservation Diaries of Alison Jolly, Zed Books, ppxi-xxii.
Jolly, Margaretta (2019), Sisterhood and After: An Oral History of the UK Women's Liberation Movement, 1968-Present. New York: Oxford University Press, 2019.
Jolly, Margaretta (2019), "Survival Writing: Autobiography Vs. Primatology in the Conservation Diaries of Alison Jolly." a/b: Auto/Biography Studies 34, no. 4.
Jolly, Margaretta (2015), 'Voices in Movement: Feminist Family Stories in Oral History and Sound Art',in Life Writing, 2015, 1:2, pp1-21.
Jolly, Margaretta and M. Jensen (eds) (2014), We Shall Bear Witness: Life Narratives and Human Right. Wisconsin Studies in Autobiography., University of Wisconsin Press
Jolly, Margaretta and and Polly Russell (eds.) (2020). Unfinished Business: The Fight for Women's Rights, British Library Publishing, London.

Langhamer, Claire

(2016)

Amours, seductions et désir. In: Histoire des emotions, Volume 3, L' empire de l'emotion (1880-2013). Le Seuil, Paris.
Langhamer, Claire (2016) An archive of feeling? Mass observation and the mid-century moment. Insights, 9.
Langhamer, Claire (2013) The English in love: the intimate story of an emotional revolution. Oxford University Press, Oxford.
Langhamer, Claire (2017) 'Feeling, women and work in the long 1950s'. In: Women's History Review, 26 (1). pp. 77-92.
Langhamer, Claire (2018) Mass observing the atom bomb: the emotional politics of August 1945. Contemporary British History.
Langhamer, Claire (2019) 'Trust, authenticity and bigamy in twentieth century England.' In: Barclay, Katie, Meek, Jeffrey and Thomson, Andrea (eds.) Courtship, marriage and marriage breakdown: perspectives from the history of emotions. Palgrave, London.
Langhamer, Claire (2018) 'Who the hell are ordinary people?' Ordinariness as a category of historical analysis. Transactions of the Royal Historical Society. ISSN 0080-4401
Langhamer, Claire, Noakes, Lucy and Siebrecht, Claudia (2019) 'Introduction: total war: an emotional history'. In: Langhamer, Claire, Noakes, Lucy and Siebrecht, Claudia (eds.) Total war: an emotional history. Proceedings of the British Academy. Oxford University Press, Oxford.
Loske, Alexandra (2017) 'Aquarell', in: Clare Best and Mary Anne Aytoun-Ellis, Springlines. Exploring hidden and mysterious bodies of water. (Dorchester, Little Toller) pp.52-53.
Loske, Alexandra (2019) Colour: A Cultural History (Tate/Ilex) [with chapters on Mary Merrifield and Mary Gartside]
Loske, Alexandra (ed.) (2021) A Cultural History of Color in the Age of Industry. Vol 5 of The Bloomsbury Cultural History of Color. I [with a focus on women in colour history in the Introduction]
Loske, Alexandra (2021) 'From the library of colour women: Beatrice Irwin (1877-1956).' Colour and Poetry: A Symposium III (Slade Press, London, 2021) pp.106-110
Loske, Alexandra (2010) 'Mary Gartside: A female colour theorist in Georgian England.' Journal of Art History and Museum Studies (St Andrew's University), 14. pp. 17-30.
Loske, Alexandra (2016) 'Mary Philadelphia Merrifield: color history as expertise.' Visual Resources: an international journal on images and their uses, 32.
Loske, Alexandra (2014) '"Miss Gartside's immediate eye": An examination of Mary Gartside's publications on colour between 1805 and 1808 in the context of illustrated colour literature and paint manuals of the early nineteenth century', in Anderson, Wendy, Carole P. Biggam, Carole Hough and Christian Kay (eds.) Colour Studies. A Broad Spectrum (John Benjamin's Publishing Company)

, pp. 380-396.

Loske, Alexandra (ed.) (2019) Pale Fire - New Writing on the Moon (The Frogmore Press)
Loske, Alexandra (2019) 'The female influence on George IV's taste and collecting habits'. In: Heard, Kate and Jones, Kathryn (eds.) George IV: Art & Spectacle. Royal Collection Trust, London, pp. 152-159.
Loske, Alexandra (2018), 'Trois femmes cherchent la quadrature du cercle chromatique vers 1800-1930 / Three Women Squaring the Color Circle between ca. 1800 and 1930', in Under the Rainbow, ECAL/University of Art and Design Lausanne, pp.223-267.
Newell, S (2008), The Forger's Tale, The Search for Odeziaku (Ohio University Press)
Newport, Emma (2019), 'Brief Encounters: Curating GIFs, Memes and Social Media for Short Story Life Writing', New and Unusual Ways of Writing Lives, ed. by Jo Parnell (University of Newcastle, Australia), Palgrave-MacMillan (2019)
Newport, Emma (2019),'Intimate publics and post-hum[an]ous life writing: Digital Dismembering and Remembering in Cyberspace' Life Writing & Death Cluster for the European Journal of Life Writing, ed. by Clare Brant (
Newport, Emma (2018), 'The Fictility of Porcelain: Making and Shaping Meaning in Lady Dorothea Banks's "Dairy Book".' Eighteenth-Century Fiction, vol. 31 no. 1, 2018, pp. 117-142. Project MUSE, muse.jhu.edu/article/704845. ECF: https://muse.jhu.edu/issue/39139
Norris, Jacob (2013) Exporting the Holy Land: artisans and merchant migrants in Ottoman-era Bethlehem. Journal of Middle East Migration Studies, 2. pp. 14-40
Norris, Jacob (2018), 'Saint Marie-Alphonsine and the Resurrection of Jubra'il Dabdoub', in Jerusalem Quarterly 73 (Spring 2018), pp.10-41.
O'Riordan, K (2007), Queer Online: Media Technology and Sexuality (New York : Peter Lang ISBN 978-0-820-48631-4)
Page, Jeremy (2017) 'A Resubmission for the Ordinary Level Examination in Psychogeography',

Axon: Creative Explorations, Vol 7, No 2 (edited by Paul Munden), December 2017

.
Page, Jeremy (2018) London Calling and Other Stories, Cultured Llama
Page, Jeremy (2016) Stepping Back: Resubmission for the Ordinary Level Examination in Psychogeography (Lewes: The Frogmore Press). ISBN 978-0957068865
Perks, R & Thomson, A (eds) (2016), The Oral History Reader (London : Routledge)
Rishbeth, Beth & Ben Rogaly (2017), 'Sitting outside: conviviality, self-care and the design of benches in urban public space', in: Transcations of the Institue of British Geographers (Royal Geographical Society).
Robinson, Lucy (2016) 'Collaboration in, collaboration out: the eighties in the age of digital reproduction', in: Cultural and Social History, 13 (3). pp. 403-423.
Robinson, Lucy (2017) Exhibition review Punk's 40th anniversary — an itchy sort of heritage. Twentieth Century British History.
Robinson, Lucy (2007), Gay Men and the Left in Post-war Britain: How the personal got political, Manchester University Press
Robinson, Lucy and Cofield, Laura (2016) 'The opposite of the band' fangrrrling, feminism and sexual dissidence. Textual Practice, 30 (6). pp. 1071-1088.
Robinson, Lucy (2006), 'Three Revolutionary Years: The Impact of the Counter Culture on the Development of the Gay Liberation Movement in Britain', Cultural and Social History (Volume 3 pp. 445-471)
Rogaly, Ben and Qureshi, Kaveri (2013) Diversity, urban space and the right to the provincial city. Identities: Global Studies in Culture and Power, 20 (4). pp. 423-437. ISSN 1070-289X http://dx.doi.org/10.1080/1070289X.2013.8223
Robinson, Lucy and Jones, Benjamin (2017) 'Queering the grammar school boy: class, sexuality and authenticity in the works of Colin MacInnes and Ray Gosling'. In: Bentley, Nick (ed.) Teenage Kicks. Palgrave.
Robinson, Lucy (2018) 'Thoughts on pride: no coal dug.' Open Library of Humanities.
Schultz, D (2009), co-edited with Edward Timms, Pictorial Narrative in the Nazi Period: Felix Nussbaum, Charlotte Salomon and Arnold Daghani. Oxford: Routledge
Shadrick, Tanya & Rachel Playforth (eds.) (2017) Watermarks. Writing by Lido Lovers & Wild Swimmers, Lewes: The Frogmore Press/Pells Pool
Stanley, Liz, and Margaretta Jolly (2017), "Epistolarity: Life after Death of the Letter?". a/b: Auto/Biography Studies 32, no. 2 (2017/05/04 2017): 229-33.
Sheridan, D, Street, B & Bloome, D (2000), Writing Ourselves: Literacy Practices and the Mass-Observation Project, Hampton Press.
Sitzia, L (2015), 'Catching Stories: oral histories of the Brighton Fishing Community', Institute of Historical Research, on-line journal
Thomas, Lyn (2016) Clothes Pegs: A Woman's Life in 30 Outfits http://www.clothespegs.net/

Thomas, Lyn

(2015)

'

'Ennemies de classe ou âmes-sœurs: Virginia Woolf et Annie Ernaux', in

Annie Ernaux : L'Intertextualité

, Robert Kahn, Laurence Macé and Françoise Simonet-Tenant (eds), Rouen: Presses Universitaires de Rouen et du Havre

Thomas, Lyn (2014), 'La "mémoire humiliée" et sa narration: Ernaux et la 'communauté' des intellectuels transfuges de classe' ('The narration of humiliated memory: Annie Ernaux and the 'community' of intellectual class migrants') in

Annie Ernaux, le temps et la mémoire

, F. Dugast-Portes, F. Best and B. Blanckeman (eds), Paris: Stock.

Thomas, Lyn (2015) 'Regarde l'auteure mon amour: engagement et célébrité' in Annie Ernaux, Un engagement d'écriture, Pierre-Louis Fort and Violaine Houdart-Merot (eds), Paris: Presses de la Sorbonne Nouvelle'

Thomas, Lyn

(2014)

'Religion for a Postsecular Society? Discourses of Gender, Religion and Secularity in the Reception of BBC2's The Monastery and The Convent' in M. Gillespie, D. Herbert and A. Greenhill (eds), Social Media and Religious Change, Berlin: de Gruyters.
Thomas, Lyn (2016), 'Sharing experiences of "suspect" communities in Britain: Irish Catholic and Muslim Women's "Voices in Harmony"' in Contemporary Encounters in Gender and Religion, Gemzöe, L.. Keinänen, M.L. and Maddrell, A. (eds) Palgrave.

Thomas, Lyn (2016),

'The Archers and its Listeners in the Twenty-First Century: Drama, Nostalgia and the Rural Everyday'. In:

Cara Courage, Nicola Headlam and Peter Matthews (eds)

The Archers in Fact and Fiction: Academic Analyses of Life in Rural Borsetshire

(

Oxford: Peter Lang).

Thomas, Lyn (2019), 'Voix blanche? Annie Ernaux, French feminisms and the challenge of intersectionality', in

Making Waves: French Feminisms and their Legacies 1975-2015

, Margaret Atack, Alison Fell, Diana Holmes and Imogen Long (eds), Liverpool University Press

Thomson, Rachel (2016) 'Youth and reflexive life management.' In: Furlong, Andy (ed.) Handbook of youth and young adulthood (second edition). Routledge, London.
Thomson, Rachel and Baraitser, Lisa (2018) Thinking through childhood and maternal studies: a feminist encounter. In: Rosen, Rachel and Twarmley, Katherine (eds.) Feminism and the politics of childhood, pp. 66-82. University College London Press.
Thomson, Rachel and McLeod, Julie (2015) 'New frontiers in qualitative longitudinal research: an agenda for research'. International Journal of Social Research Methodology, 18 (3). pp. 243-250.
Thomson, Rachel, Berriman, Liam and Bragg, Sara (2018) Researching everyday childhoods: time, technology and documentation in a digital age. Bloomsbury, London.
Thynne, Lizzie (2018) 'Memory, subjectivity and maternal histories', in Un'Ora Sola Ti Vorrei (2005), Histoire d'un Secret (2003) and On the Border (2012). In: Arnolde-De Simine, Silke and Leal, Joanne (eds.) Picturing the family: media, narrative, memory. Bloomsbury Academic, London, UK, pp. 41-65.
Thynne, Lizzie (2013) On the Border. [Video]
Thynne, Lizzie (2018) 'Unravelling family fictions: stories we tell, daughter rite and my life without me'. In: Marchevska, E (ed.) The Maternal in creative work: intergenerational discussions on motherhood and art. Taylor Francis, London.
Thynne, Lizzie and Hughes, Ed (2018) Brighton: symphony of a city. [Video]
Walsh, Katie (2014) Placing transnational migrants through comparative research: British migrant belonging in five GCC cities. Population, Space and Place, 20 (1). pp. 1-17.
Walden, Victoria Grace (ed) (2022) The Memorial Museum in the Digital Age, edited by Dr Victoria Grace Walden. (PDF). Falmer: REFRAME Books, 2022
Walsh, Katie (2016) Transnational Migration and Home in Older Age. Co-edited with Lena Näre, University of Helsinki, Finland.
Wolf, Hope and Sebastian Faulks (eds) (2014), A Broken World: Letters, Diaries and Memoirs of the First World War, London: Hutchinson.
Wolf, Hope and Eveline Kilian (eds),(2016), Life Writing and Space, London: Routledge
Wolf, Hope (2017) The Making of Sussex Modernism. In: [Catalogue] Sussex Modernism: retreat and rebellion. Two Temple Place, London, 08-55.
Wolf, Hope (2015) Paper is patient: tweets from the '#AnneFrank of Palestine'. Textual Practice, 29 (11).
Wolf, Hope (2018), Scaling war: poetic calibration and mythic measures in David Jones's In Parenthesis. In: McLoughlin, Kate and Das, Santanu (eds.) The First World War: literature, culture, modernity. British Academy.
Wolf, Hope (2019), A Tale of Mother's Bones. Gail Pailthorpe, Reuben Mednikoff, and the Birth of Psychorealism. Exhibition catalogue. Camden Arts Centre.
Mass-Observation Occasional Papers Series
The Mass-Observation Archive publishes an Occasional Paper series all issues of which are available for purchase from the Archive. Take a look at the list on the Mass-Observation Archive website
Related journals