Life history and life writing research uses life story - whether in the form of oral history, personal narrative, autobiography or biography - as a primary source for the study of history and culture.
Life history and life writing research uses life story - whether in the form of oral history, personal narrative, autobiography or biography - as a primary source for the study of history and culture. Life stories capture the relation between the individual and society, the local and the national, the past and present and the public and private experience. Research involves grappling with theories of memory, relationship and self representation, and with debates about literacy and orality. Many disciplines contribute to the field, including history, sociology, anthropology, literary philosophy, cultural studies and psychology. Life history and life writing researchers present their work in many forms. As well as academic publications, we contribute to radio and television documentaries, auto/biographical drama, reminiscence work, digital and video presentations and exhibitions. Life history and life writing research is, of necessity, concerned with ethics and power relationships, and with the potential for advocacy and empowerment.
Upcoming CLHLWR event:
24 March 2023, 2pm-4.30pm

Silverstone Building, University of Sussex.

In person but Zoom link an option

A life history and life writing workshop to share and creatively express experiences and histories of Trade Unionism, front and backstage.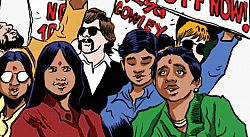 From oral histories of the miners' strike, biopics of the Tolpuddle martyrs, to TUC General Secretary Frances O'Grady's confessions on Desert Island Discs, the lives of Trade Unionists have captured the imagination for their deep revelations about class, power and social change. They have also provided difficult challenges for those exploring an individual life in relation to the collective, and the ideals and compromises at the heart of Union experience.
This workshop will start with short presentations from academics and activists who have sought creative and critical modes for representing Union struggles and identities, including ballads, exhibitions, drawings and quest biographies. We will then share our own 'Trade Union travellings' through guided discussion and exercises, including a left-field interview with UCU Sussex President, Dr Jo Pawlik.
Proudly featuring Dr Natalie Thomlinson refreshing the history of women in the miners' strike, Prof Sundari Anitha on creating comic-form representations of Jayaben Desai from the Grunwick Strike, Dr Christian Høgsbjerg on the lost biography of seafarer's organiser and black activist Chris Braithwaite, Ros Eyben on the elusive memoirs of her Fire Brigades Union father. Prof Margaretta Jolly will guide exercises and Dr Jonathan Moss will chair.
Booking info here: Trade Union Travellings – your next life writing challenge Tickets, Fri 24 Mar 2023 at 14:00 | Eventbrite
This event has been co-sponsored by the Centre for Memory, Narrative and Histories at the University of Brighton.
Upcoming free CLHLWR events:
27 March 2023, 4pm-5.30pm, Silverstone Building, Room 302, University of Sussex
Free, all welcome.
Please join us at a welcoming general meeting to share your research questions and projects; methodological interests in life writing, oral history, life history, documentary, auto/biography, portraiture, biomythography, obituary, ecobiography, testimony, object lives, the digital everyday, Mass Observation and more. We'll also explore opportunities for collaboration, funding, and ways to publicise our collective strength in this capacious, inter-disciplinary field.
Drinks and nibbles provided. Registration required: EVENTBRITE
Any questions please contact: m.jolly@sussex.ac.uk
19 March 2023, 9a.m. GMT (10a.m. CET), online
A talk by Dr Alexandra Loske for ICA-Belgium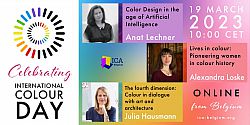 Free, all welcome, registration here.
On March 19 ICA-Belgium celebrates International Colour Day (ICD) with an online event. ICD celebrations aim to develop awareness of the importance of colour phenomena and culture in the broad domains of Art and the Humanities, Science, and Technology. As part of this, Alexandra Loske will present a talk on her research project, supported by the CLHWLR, on some of the overlooked women in the history of colour.