Artificial Intelligence in the job interview process
The role of Artificial Intelligence (AI) in our daily lives is increasing, from autocorrecting our text to using it to remotely control our homes. It is being used increasingly in the workplace, and its use in the hiring process has increased radically, especially during the pandemic.
There is a growing demand among employers for video interviewing services offered by digital hiring platforms especially in recruiting young jobseekers. Whilst these new technologies aim to bring greater efficiency and objectivity into the hiring process, little is known about the impact that they might have on young job candidates.
Research led by Dr Zahira Jaser, Dr Dimitra Petrakaki and Dr Rachel Starr and Dr Ernesto Oyarbide explores these technologies from the perspectives of the ultimate users: young jobseekers.
Research Approach
The researchers used qualitative interviews with young jobseekers, conducted an archival investigation of platforms currently supplying employers with interviewing technologies and other screening solutions, as well as a careful analysis of publicly available information provided by platforms, employers, and other secondary sources.
Key Findings
The research has revealed a complex and opaque picture of the use of AI in hiring processes and highlights a lack of transparency about the processes involved in AI interviews and a lack of understanding about how young jobseekers are affected.
Young people, careers advisers and employers often do not fully understand the implications and the effects of these new technologies on both the hiring process and young interviewees.
To overcome some of this opacity, the researchers have identified and provided a detailed spectrum of different forms of job interviews: from a traditional face-to-face in-person format to a fully automated and technology-led version via a screen. The spectrum spells out the role of the technology in the recruitment process. However, they also find that young jobseekers experience progressive depersonalisation, the greater the role of the technology, which may be increasingly disorientating for jobseekers and have a possible negative impact on their interview performance.
Impact and outreach
For young people
Through animated videos, the researchers explain why young people feel disorientated by new job-interview technologies and provide guidance on how to make sense of them.
Watch - Automated Video Interviews - Become Aware
The second video explains what kind of artificial intelligence is behind many automated video interviews. It explores how these technologies can have a negative impact on young people's self-perception. The video offers useful tips on how to avoid these negative self-perceptions pitfalls.
Watch - Automated Video Interviews - Stay Human
For Hiring Platforms, Employers and HR Managers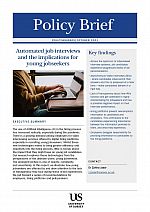 The team has published a policy brief - Automated job interviews and the implications for young jobseekers - that outlines a series of recommendations to improve transparency and accountability; encourage appropriate prompt feedback, enable better privacy and data consent; and provide a robust support system for candidates.
In conjunction with the Institute for Employment Studies, the team has also developed an Artificial Intelligence (AI) in the job interview process toolkit to provide employers and careers and employment advisers with crucial information on how to support young people in their transitions to the labour market in the context of new technologies used in recruitment and selection processes.
Other information
The research was funded by the University of Sussex Higher Education Innovation Fund COVID Recovery Programme.