SPRU news items
Read news from the Science Policy Research Unit at the University of Sussex.
---
Time for action: SSRP Week kickstarts new phase for sustainability research with impact
Posted on behalf of: Sussex Sustainability Research Programme
Last updated: Thursday, 20 October 2022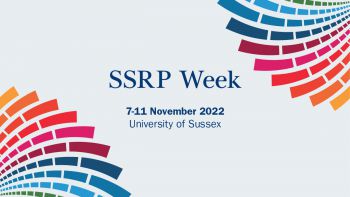 The Sussex Sustainability Research Programme (SSRP), a joint initiative between the University of Sussex and the Institute of Development Studies (IDS), is delighted to announce SSRP Week. Between 7-11 November 2022, a series of events will be hosted to showcase sustainability research with impact and to engage with academics across the university and help them to understand what support is available for their research into sustainability. SSRP will also be launching Phase II of the programme on 9 November, with the aim to scale up research around pressing sustainability issues, and to become a leading institution in providing science for achieving the 17 United Nations Sustainable Development Goals (SDGs) in a just and equitable way.
Throughout SSRP Week, the research programme will be hosting a range of free sustainability-themed events led by members of the SSRP community under the five new research clusters:
Ecosystems, rights and justice
Planetary health
South Coast sustainability
Sustainable climate and food systems
Sustainability frontiers.
From speaker events to panel discussions, workshops, exhibitions, and drinks receptions, this is an opportunity for Sussex academics, staff and students to engage with a thriving community of sustainability researchers, activists and practitioners. To find out more about the very latest research in sustainability and hear about how our researchers are making great advances in tackling pressing global challenges and scaling up their activities, explore the full SSRP Week programme and register for all sessions here.
The main event of the week will mark the official launch of SSRP's Phase II, taking place on Wednesday, 9 November 2022 at the Conference Centre, University of Sussex. The day will be kicked off with speeches by university representatives, SSRP researchers and external guests, including our new VC Sasha Roseneil, PVC Keith Jones and Prof Joyeeta Gupta, co-Chair of the Earth Commission and Professor at the University of Amsterdam and IHE Delft Institute for Water Education, Netherlands. The release of the university's annual sustainability performance report will also be announced alongside SSRP's Phase II launch. This will be followed by lunch, an audio-visual exhibition featuring videos, photos, soundscapes from Sussex sustainability research around the world, SSRP's annual research symposium and a networking drinks reception.
Prof Joseph Alcamo, SSRP Director and Professor of Environmental Systems Science in the School of Global Studies, is looking forward to welcoming you in November for what will be an exciting packed week and points out: "It seems we are in a race between futures, one dystopian, one hopeful. Which one will it be? The hopeful one requires a transformation that's wide and deep and has sustainability at its core. The events of SSRP Week give a glimpse of this hopeful transformation, and how it's being kindled by Sussex researchers and their partners in the Global South and nearer by. Researchers will talk about making global supply chains sustainable, about spreading ideas for sustainable agriculture even in conflict zones, about combining public health and ecosystem health in tropical forests. Join us to see glimpses of a hopeful future."
Having supported 49 projects with seed-funding to date, SSRP is an interdisciplinary community of sustainability experts across eight Schools and IDS, following its mottos of providing 'Science for the SDGs' and 'maximising SDG synergies and minimising trade-offs'. These mottos provide a flexible and action-oriented umbrella for researchers to come together on campus and build new sustainability research collaborations across disciplines and borders.
SSRP Week also marks the start of the 27th United Nations Climate Change Conference of the Parties (COP 27) which is reflected in the first session of the week 'Good COP/Bad COP': a panel discussion, co-hosted with IDS and the Rapid Transition Alliance, addressing how action from above and below can complement each other to drive transformative climate action. Prof John Thompson, co-Director of SSRP and Research Fellow at IDS, who will be chairing this session, explains: "We felt it was timely to bring together a panel of experts at the start of the COP27 negotiations to focus not on the well-known problems and obstacles to concreted climate action, but rather on emerging 'signs of hope' - highlighting where things are working both in the climate talks and in the real world."
All events throughout SSRP Week are open to the SSRP, Sussex and IDS community, including staff, students and alumni. Our (inter)national partners and those interested from the local community are also warmly encouraged to attend and spread the word.
To find out more about the Sussex Sustainability Research Programme (SSRP) and its upcoming week of events in November, explore the SSRP Week webpage.
Further information: https://www.sussex.ac.uk/research/centres/sussex-sustainability-research-programme/events/ssrp-week
---
You might also be interested in: