SPRU news items
Read news from the Science Policy Research Unit at the University of Sussex.
---
Academics and policy makers mobilise to transform innovation in South Africa
By: Francisco Dominguez
Last updated: Thursday, 5 November 2020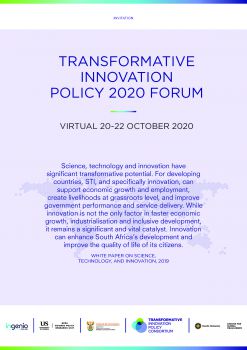 Innovation has a key role to play in enhancing development and improving the quality of life of people in South Africa.
This was the view of over 140 experts taking part in a three-day forum, co-organised by Sussex, to help transform the country's science, technology and innovation systems.
The event was run by the Transformative Innovation Policy Consortium (TIPC) – led out of SPRU at the University of Sussex Business School – in partnership with South Africa's Department for Science and Innovation and National Research Foundation.
It was an important milestone in a national drive to build a national community of change agents.
Over 40 agencies, organisations and projects working to boost development through research and innovation were represented, including:
Association for Water and Rural Development
British Council
Council for Scientific and Industrial Research
Development Bank of Southern Africa
German Research Foundation
Human Sciences Research Council
International Development Research Centre
Ministry of Higher Education, Science and Technology
National Advisory Council on Innovation
Southern African Development Community
South African National Biodiversity Institute
Technology Innovation Agency
United Nations Development Programme
Water Research Commission
Practitioners described how the theories and tools developed by researchers have been applied to a national portfolio of projects to enhance their transformative potential.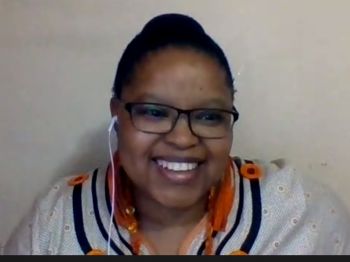 Mapula Tsangela, Director of Climate Change Mitigation Sector Plan Implementation with South Africa's Department of Environmental Affairs, leading a session at the forum
In one session, leaders of the Living Catchments Project shared learnings from a 14-week 'policy experiment' with TIPC to strengthen the country's water system. The collaboration will support the project's aims to confront water scarcity in South Africa over a 10-year period between 2015 and 2025.
Dr Chux Daniels, TIPC Africa Director and Senior Research Fellow at SPRU said: "This project is an example of SPRU's excellent research and focus on global impacts that support the achievement of the SDGs. Working with researchers, practitioners and policymakers in South Africa; the SPRU and broader TIPC team have contributed to improving knowledge on water governance among key stakeholders. Effective water governance is essential to livelihoods, environment and climate action."
"Policy makers around the world recognise the need for innovation to tackle global challenges such as climate change," said Professor Steve McGuire, Dean of the University of Sussex Business School. "The school is pleased to support South Africa's agencies in their efforts to address these problems through transformative innovation policy."
For more information, visit the TIP Africa Hub.
---
You might also be interested in: