University of Sussex named best in world for student diversity by students
By: Neil Vowles
Last updated: Thursday, 14 October 2021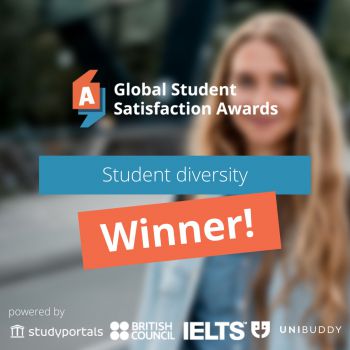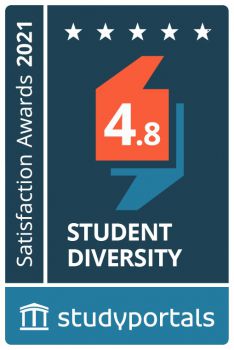 The University of Sussex has won an international award for the diversity of its student body by the only global university recognition programme from the student perspective.
The University has been awarded the Global Award for Student Diversity in the Study Portals Global Satisfaction Awards 2021, which are informed solely by student experience and feedback.

Vice-Chancellor Adam Tickell accepted the accolade from the former Dutch Prime Minister Jan Peter Balkenende at a virtual awards ceremony this afternoon [Thursday 14 October].

Professor Richard Follett, Deputy Pro Vice Chancellor and Associate Vice President (International) at the University of Sussex, will receive the award marking the University's achievement at an awards ceremony this evening.
The Global Student Satisfaction Awards, launched in 2015 with the British Council, received 108,000 reviews from current and former students for this year's awards with 4,000 universities reviewed and more than 440 institutions qualifying for the awards.
The Student Diversity Award asked students to rate how friendly the atmosphere at their university was for people from diverse background – including different countries, cultures, religions, age, gender, and special needs.

Sussex was named best university for student diversity in Europe, Middle East and Africa before taking the global award ahead of Americas winner Northeastern University (United States) and Asia Pacific winner The University of Queensland (Australia)
The award is the latest in a number of successes for the University following on from being named University of the Year for Student Retention in The Times and Sunday Times Good University Guide 2022 and the best performing university in the UK in supporting the mobility of its students in the World's Universities with Real Impact (WURI) 2021 Rankings.
Professor Richard Follett said: "This award is an enormous achievement and a ringing endorsement of the university's status as a leading global player in internationalisation and diversity.

"It is reflective of a Sussex community that believes passionately in maximising the experiences of and opportunities for all our staff and students and in having a truly international perspective.

"We have shown through our recent key appointments in Equality, Culture and Inclusion how highly we value diversity and how committed we are to making Sussex one of the most inclusive institutions in the UK."

The 2021 awards are based on all reviews written by students on Study Portal with a graduation date on or after January 1st 2018.

Students rated their study experience on a scale from 1 (lowest rating) to 5 (highest rating) when assessing their satisfaction in eight categories: Overall Satisfaction; Student-Teacher Interaction; Quality of Student Life; Career Development; Student Diversity; Admission Process; Online Classroom Experience and Covid-19 Crisis Management.
The award winners are the university with the highest student satisfaction rating in its subject.