Sussex named University of the Year for Student Retention
By: James Hakner
Last updated: Thursday, 23 September 2021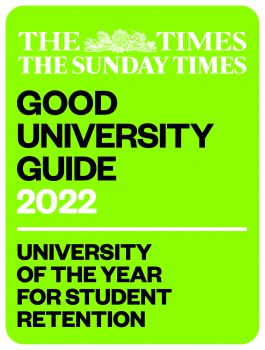 The University of Sussex has been named University of the Year for Student Retention in The Times and Sunday Times Good University Guide 2022, published today (Friday 17 September).
The award singles out Sussex as the best in the country for supporting students to stay the course and complete their degrees.
The editor of the guide, Alastair McCall, said: "A supportive student environment keeps the dropout rate at Sussex at around half of its expected level, saving hundreds of student careers and millions of pounds. The university has a targeted support package for students identified as being most at risk of dropping out or repeating a year, recognising that encouraging young people to aspire and apply to university is just the beginning.
"Sector-leading support for students during the pandemic also stood out in making Sussex our University of the Year for Student Retention. Good levels of academic and financial support help form a safety net of support through which it is hard for students to fall, more than living up to the university's stated values of collaboration, courage, kindness, inclusion and integrity."
Sussex has more than 14,000 full-time undergraduates and in the latest figures the dropout rate is less than half the expected level: 5% against a benchmark of 10.1%.
Adam Tickell, the Vice-Chancellor, said: "This award is vindication for everybody at the University who works so tirelessly to help students achieve their goals, whatever their background or circumstances.
"Building aspiration in students who may not have considered university is a good start but we know that our role as an educator doesn't end there. This is why we invest heavily on in-course support, so we can fulfil our commitments to those students and put structures in place for them to succeed.
"We are proud of all the students and staff who continue to prove that a life-changing education can be - and should be - available to everyone."
The University's Learn to Transform strategy makes students partners in the big decisions that face the University. Our new Student Connectors initiative employs students to work directly with staff and students on continuous improvements to how we do things.
We have a comprehensive range of events and activities to prepare students for university life, such as summer schools and visits, which provide a solid foundation; our focus then shifts to putting in place the best possible academic support.
A tailored academic progression programme provides a more targeted approach to support the transition from level 4 to 5 for those at risk of repeating or withdrawing.
Our personal development offer builds students' confidence, providing the investigative, technical, navigational and employability skills at university and in the graduate job market that can support students in making informed choices. We also offer paid summer research opportunities, internships and mentoring.
This attention to our students' studies and academic journey is mirrored in our financial support. We provide targeted scholarships towards those who truly need them and, simultaneously, we have increased funding to support students who have the most pressing need.
During the pandemic we introduced a sector-leading support package for self-isolating students, waived rents for students who returned home and adjusted assessments so that the impacts of the pandemic upon students' academic studies were mitigated.
The Times and The Sunday Times Good University Guide 2022 provides the definitive rankings for UK universities and the most comprehensive overview of higher education in Britain. It includes profiles on 132 universities, making use of the latest data published in the past two months.
A fully searchable website with 70 subject tables, full interactive tables and additional features has gone online on The Times and The Sunday Times today.
A 96-page supplement will be published with The Sunday Times on 19th September.
Sussex's overall ranking in the guide is 47th and the University is ranked in the top 10 for three subjects: American Studies (1st), Animal Science (7th), and Medicine (10th).