New international media programme first of its kind in the UK and Hong Kong
By: Victoria Shaw
Last updated: Wednesday, 12 April 2017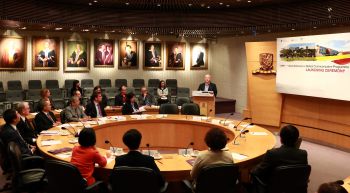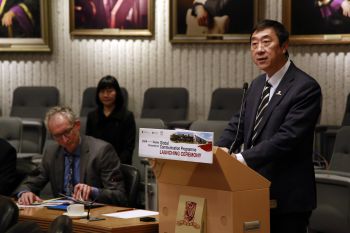 Sussex Pro-Vice-Chancellor (Research), Professor Michael Davies, and an eight-member delegation from the University were hosted by Professor Joseph Sung, Vice-Chancellor of the Chinese University of Hong Kong, last week for a ceremony to launch a joint International Programme on Global Communication.
The four-year programme, starting this year, is the first of its kind in Hong Kong and in the UK. It provides students with the opportunity to study in both the UK and Hong Kong, with integrated practical training and a global learning experience.
Developed by the School of Journalism and Communication at CUHK and the School of Media, Film and Music at Sussex, the programme features a structured exchange, whereby each cohort of students admitted by CUHK and Sussex will study together for two years, enrolled on core courses jointly drawn up by the two universities.
"CUHK is committed to building deep and innovative teaching collaborations with like-minded, outstanding institutions," said Professor Sung. "This will equip our students with the necessary knowledge and skills, and a global mind-set to succeed in today's world and make lifelong contributions to society."
"This new programme reflects the true spirit of international higher education cooperation," said Professor Davies, who thanked Professor Sung for his enduring support for the close alliance between the two universities.
The new degree was celebrated at a British Council event on global issues in media and communication, featuring TVB political journalist Kenneth Ng King Tsun.
Sussex has a long history of connections with CUHK, one of Asia's leading universities and recently placed in the world's top 100 by the Times Higher Education World University Rankings. The University's founding Vice-Chancellor, Lord Fulton, chaired the commission that recommended the establishment of CUHK in 1963, and collaboration on student mobility and research has been running for a number of years.