Critical minds needed more than ever to navigate global media landscape, say Sussex and CUHK
By: Victoria Shaw
Last updated: Wednesday, 12 April 2017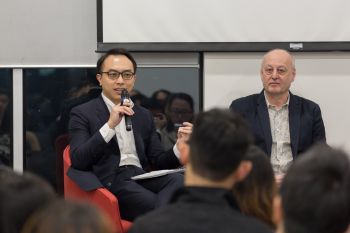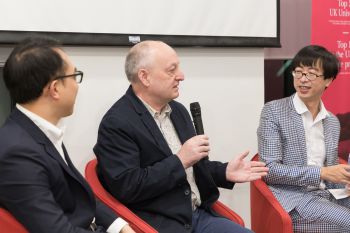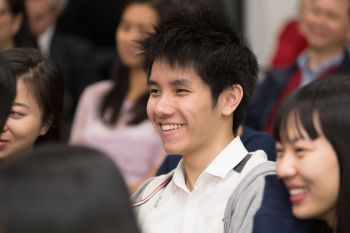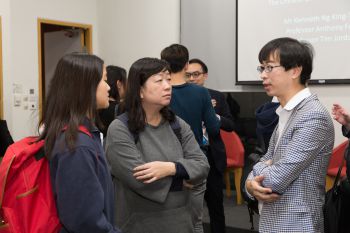 In the face of an increasing challenging global media landscape, we need media-literate graduates more than ever to understand the world we live in. This was the view of experts from the University of Sussex and the Chinese University of Hong Kong (CUHK) speaking in Hong Kong last week.
Professor Tim Jordan, Head of the School of Media, Film and Music at Sussex and Professor Anthony Fung, Director of the School of Journalism and Communication at CUHK, were presenting at a packed British Council event to launch a new International Programme on Global Communication.
They were joined by special guest Kenneth Ng King Tsun, Principal Producer at Hong Kong's Television Broadcasts Limited and winner of a 2016 British Council Professional Achievement Award.
An established political journalist, Mr Ng has covered elections in Hong Kong and Taiwan, controversial political reform, and international affairs, including the remarkable 2016 US presidential election. Since 2012, he has hosted the talk show On the Record, recognised as one of the most insightful news programmes in Hong Kong.
Citing examples from Hong Kong, the UK and the USA, Mr Ng joined Profs Jordan and Fung in discussing some of the global issues facing the media industry today, including changing business models, fake news, social media and 'echo chambers', and a lack of trust in even the most established media institutions.
Mr Ng highlighted that the introduction of smart phones has led to mainstream media becoming sensationalised. Headlines are shared instantaneously on digital platforms, with many users failing to read the content, compromising high quality insight and investigative journalism.
The panel called for audiences to "open their eyes" and engage critically with the media, comparing different angles on reports and seeking out content that is less biased and more objective. "The critical study of this field is more important than ever before,' said Professor Jordan. "It is very hard to understand the world today without a critical understanding of media and communication."
The International Programme on Global Communication is a four-year undergraduate programme run jointly by the Chinese University of Hong Kong and the University of Sussex in Brighton, UK. Starting in 2017, it will allow students to study in both the UK and Hong Kong, with the aim of nurturing global leaders in communication, journalism and creative and digital media. It is underpinned by the institutional partnership between the two universities.
Further information: http://info.britishcouncil.hk/siem/e-mail_shot/sussex_Mar2017.html