The University of Sussex has institutional relationships with outstanding global partners that underpin strategic initiatives for student and staff mobility, research collaboration and international teaching programmes.
The Chinese University of Hong Kong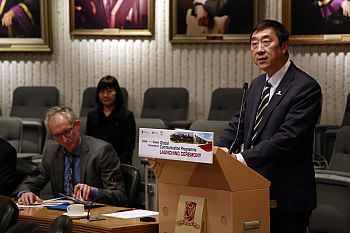 Sussex and The Chinese University of Hong Kong (CUHK) share a long history, with Lord Fulton, Sussex's founding Vice-Chancellor, heading the commission that recommended the establishment of CUHK in 1963. Part of a range of student mobility activities, together we deliver a Global Media and Communications BA, aiming to nurture future global leaders in the fields of media and communications. Faculty collaborate in research in media, journalism, migration and drug discovery, with joint investment in cancer science and neuroscience. Sussex is eligible for CUHK funding schemes, including Inbound and Outbound Research Mobility Schemes, Bilateral Teaching Exchange Programme and Global Scholarship Programme for Research Excellence.#
The Chinese University of Hong Kong, Shenzhen
Sussex has been proudly associated with The Chinese University of Hong Kong, Shenzhen (CUHK(SZ)), since it admitted its first undergraduate students in 2014. An undergraduate exchange partner, CUHK(SZ) has also hosted Sussex students for study trips focusing on logistics and supply chain management. CUHK(SZ) students are able to progress to postgraduate programmes at Sussex in science, engineering and business.
Georgetown University
Georgetown University is a long-established partner for student mobility. Founded in 1789, Georgetown is one of the world's leading academic and research institutions and academic links exist in fields including UK / US trade, religious freedom, migration and refugee studies, and global health policy, including international access to vaccines.
University of Ghana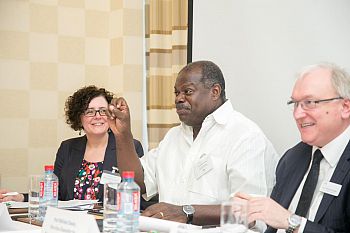 Sussex and the University of Ghana (UG) share strong links in Education, including the creation of the International Conference on Education Research for Development as a global forum to disseminate research on education for development in Africa. The Sussex-UG partnership was praised by former UN Secretary General Kofi Annan in 2015 as a model for building regional centres of excellence. Sussex and UG have co-hosted a high-profile panel discussions in partnership with the Ministry of Education on Global North-South HE Collaboration and on Antimicrobial Resistance.
Strong research links underpin activities such as the Migrating out of Poverty Consortium and African Economic History Network, and with researchers from the Institute for Development Studies, through reseacrh programmes including the Future Agricultures Consortium and Dynamic Drivers of Disease in Africa Consortium.
Hong Kong University of Science and Technology
A dynamic research-intensive University in a stunning location, Hong Kong University of Science and Technology (HKUST) is a popular destination for Sussex students. Under the Global Excellence Summer Programme, almost 50 Sussex students have also completed summer courses at HKUST, while Sussex has hosted oustanding young researchers in the Genome Damage and Stability Centre (GDSC) and Social Evolution Research Group under the International JRA programme. An academic partnership in genome stability has also emerged, leading to doctoral student exchange and collaborations between laboratories.
Renmin University of China
As a global research leader in the social sciences and humanities, Renmin has been an important partner for Sussex for almost a decade. 2018 saw the launch of a Joint Strategic Seed Fund, with the aim of pooling resources to develop joint research with global impact. Researchers have collaborated in the areas of corruption, governance, innovation management and entrepreneurship, while links in business and management have led to Renmin's inclusion in the Intrapreneurship Hub, a collaborative initiative with Bocconi University.
A significant partner for student mobility, Sussex students attend Renmin's International Summer School as part of the Global Excellence Summer Programme, while Renmin students visit Sussex through the International JRA programme. Renmin was the first institutional partner to host Sussex staff under the International Administrator Exchange Programme.
dentify problems of common interests and complementary expertise - See more at: http://iasprogram.ust.hk/201512gds/index.html#sthash.84Q2B5Nh.dpuf
Mahidol University
Mahidol University is an established partner for student mobility and research with collaboration in a number of research areas, including biomedical sciences and migration and population research. In 2016, the first research grant was awarded to the Sussex-Mahidol Migration Partnership, which has led to the development of a Europe-Asia Migration Network. Sussex and Mahidol have also developed collaborative teaching models, with an international programme in Biomedical Science and in Bioinnovation.
University of California, Santa Cruz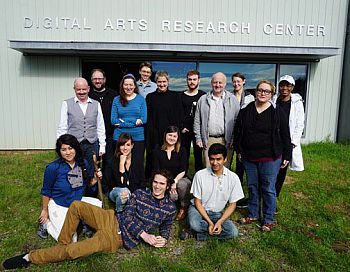 Founded in 1965 - just four years after Sussex, the University of California, Santa Cruz began as a showcase for progressive, cross-disciplinary undergraduate education. The two universities are well matched, both enjoying contemporary architecture, a scenic locaion near the coast and a reputation for research innovation and influence. With support from the International Partnership Development Fund, the School of Media, Film and Music at Sussex launched a Digital Media Exchange, leading to doctoral student mobility and research workshops on 'liveness' and bio-sensors.
Over the past decade, around 160 students have participated in study abroad and International Summer School programmes.