Eliminating podo in our lifetime
Sussex is leading the way to build a Global Atlas of Podoconiosis, a neglected tropical disease that effects 4 million people, often from some of the most deprived communities around the world.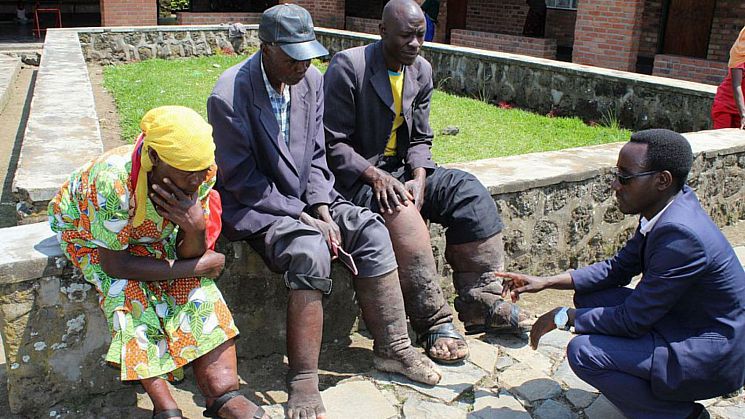 Podoconiosis patients in a treatment centre
Podoconiosis, or podo as it is known, is a neglected tropical disease that causes avoidable disability in people of all ages and genders from some of the most disadvantaged regions in the world. The Centre for Global Health Research at the Brighton and Sussex Medical School (BSMS) is the global hub for podo research and home to Professor Gail Davey OBE, the world's leading authority on tackling the disease.
Support from the BIG Lottery's International Communities Fund and from staff, students and alumni who ran the Brighton Marathon and 10K in 2016, raised almost £0.5m to help treat 65,000 patients who had never received any care before. We also trained over 500 health professionals and health extension workers to better diagnose and treat the disease. Many alumni continue to generously support our efforts to prevent podo today.

MAKE A GIFT TO ELIMINATE PODO NOW
Over two decades Professor Davey's research has helped to show that podo is both treatable and preventable. The disease is a chronic condition that results in swelling of the patient's feet and legs due to many years of barefoot contact with irritant soil in highland tropical areas. The disease is commonly misunderstood, causing terrible stigma and distress. Those most affected are usually already living below the poverty line so the impact of podo can be devastating on their lives.
Tropical African countries bear the highest disease burden, but research has revealed marked differences between countries. In certain areas of Ethiopia, for example, prevalence can be as high as 4%, with around 1.5 million people living with podo out of an overall population of around 100 million. In Cameroon the prevalence is lower (around 0.5%), but it is widespread, with around 41,500 people living with podo. Podo is also endemic in all 30 districts of Rwanda, with an estimated 6,429 living with the disease.
With support and commitment, Rwanda could be the first country in modern times to eliminate the disease.
Mapping can galvanise action
Mapping podo is the first step in ensuring that those affected are seen and can access the relatively simple and low cost treatment that they need.
Latest research indicates that there are around four million people living with podo in a possible 27 countries across three continents, but this is just an estimate. We need a Global Atlas to help fill crucial gaps in knowledge and to galvanise action.
Mapping is used as an important advocacy tool to mobilise resources once the extent of the problem and distribution of the disease is known. When we can show governments clear figures and distribution patterns, they then have the information on which to base policy. In Ethiopia, for example, the mapping was used by the Ministry of Health to help develop a national Master Plan for Neglected Tropical Diseases.
The mapping itself is carried out by researchers in BSMS, but in collaboration with Footwork, the NGO founded by Professor Davey in 2012. It's not just the technical side of mapping that is important, but also building the local partnerships that will help deliver the programmes to help patients. The two things go hand in hand.
You might also be interested in: