Fundraising news
Find out about the people who benefit most from your donations and get closer to their stories.
---
Awa's story
By: Emma Wigmore
Last updated: Monday, 25 April 2022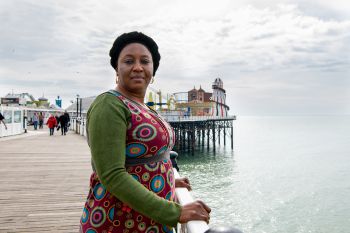 My love affair with education goes back to the rocky streets of my hometown, Banjul, The Gambia, one of the smallest and poorest countries in West Africa.
I was born into a large family and a poor community, with few life opportunities and no proper health and social care systems in place; everyone helps and cares for each other. Even at an early age, I was aware that changes needed to be made if we were to enjoy a better quality of life, and the only way to achieve that was through education.
Education has only ever been for the privileged where I come from, so I was lucky to be given the chance to attend secondary school through private sponsorship from Sweden. When I was given the opportunity to study for my A Levels – the highest qualification achievable in The Gambia's education system at that time – I grasped it with both hands.
Whilst at High School, I took advantage of my social and health science studies to support my community at large, especially women and girls my age who were less fortunate than me, as well as to help fight injustices and child poverty, which I am still passionate about.
After completing my A Levels, I found a job at the Ministry of Health and Social Welfare. I got married and started a family, though I still held onto my dream of going on to higher education in the future. My marriage turned out to be short-lived, however, because my husband and his family threatened my six-year-old daughter with female circumcision, a procedure that is traumatizing and which has lifelong health implications. The only way to protect and keep my daughter safe was to flee the country. I had to leave my other two children behind.
When we reached England, my daughter and I ended up on the street. We moved from one household to another, depending on handouts or the kindness of others. This went on for a number of years. Because we didn't have a stable home, my daughter attended four primary schools in her young life. Eventually, on the advice of one of her teachers, I sought help from the British government. We applied for asylum and were eventually granted Leave To Remain in the UK.
During and after this time, I was blessed with the opportunity to study and I completed five courses within two years. I also volunteered at a charity shop. My studies and hard work led me to an administrative job at HM Revenue and Customs and on my days off I spent my time trying to help my other two children to further their studies back in Africa.
I desperately wanted to return to education, but my efforts to do so proved futile as my immigration status meant I wasn't eligible to receive student finance. I was offered the chance to study for an Access to Higher Education course in Newcastle, but in the end I couldn't afford it. I tried to cover my fees through a monthly instalment plan, but I struggled to make the payments due to family and other life commitments.
With my education stalled, I got a job as a Covid-19 Multiskilled Operative at a local Covid Test Centre. Amidst the lockdowns, out of my frustration at being marginalised and feeling trapped, I decided to scour the internet for scholarships for refugees and asylum seekers. In a twist of fate, I stumbled upon the Article 26 Scholarship, which takes its name from Article 26 of the Universal Declaration of Human Rights, which states: 'Everyone has the right to education'.
I wasted no time in applying to different universities and was accepted by all of them. But when I received my offer for an Article 26 Scholarship to study at the University of Sussex, that's when I knew I'd hit the jackpot. It encapsulated everything that I had ever dreamt of and hoped for, and it was liberating and empowering after 27 years of struggling.
The Article 26 Scholarship created a golden opportunity for me and my family. It has given me the freedom and courage to live my dream, to be a walking example of the change I always wanted to see. It gives me financial stability because, as well as paying my tuition fees, it provides me with maintenance grant so don't have to depend on handouts from family or friends.
My transition into university life was not all a bed of roses. In fact, it was quite overwhelming to begin with as I was both a mature student and a mother. I owe a great deal of thanks for the tireless support that I've received from my tutors and academic advisers. They've really helped see me through and I now genuinely feel like I belong here. I have already made good friends amongst both fellow students and academics, one of whom helped me choose my outfit for my photoshoot for this article. That same tutor has also offered to be my guarantor so that I can apply for student accommodation next year.
I have only just started my Sussex journey; I hope to remain here and follow my foundation degree with an undergraduate degree in Childhood and Youth Studies. I could not feel more proud studying at one of the top universities in the UK. What is more, Sussex has such a culturally diverse student population that I feel honoured to be part of that family.
I genuinely owe such a lot to the University of Sussex for believing in me and giving me this magical opportunity to change my life and the lives of my children. Through the continued support of Article 26 Scholarships, I know there will be many other bright students who will be given breakthrough opportunities to enrich their lives, just as I was.

Your donation to the Sussex Fund will contribute directly to supporting Article 26 Scholarships, and help create more life-changing opportunities.
---
You might also be interested in: