Fundraising news
Find out about the people who benefit most from your donations and get closer to their stories.
---
"The most emotional part of winning was the validation. It's empowering to know that someone has confidence in you"
By: Emma Wigmore
Last updated: Thursday, 1 July 2021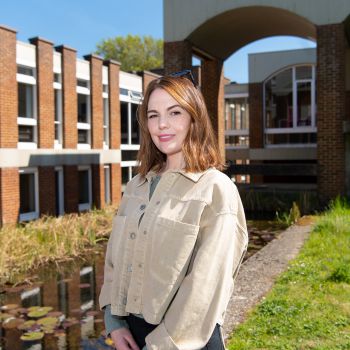 The Social Impact Prize is awarded each year to the enterprise with the most potential to bring about positive social change. The winner of the 2021 Prize is Literature & Philosophy MA student, Louise Harman. Louise has developed a unique model for grief counselling, 'Louise on Death', which will change the narrative around mourning with a focus on curiosity instead of recovery. Profits from the enterprise will be reinvested into support services for the elder generation.
This is Louise's story.
"I grew up in Brighton and Shoreham and I am the first person in my family to go to university. I never had any intention of studying past my A-levels as I wasn't a fan of school at all but art was a subject I adored and my teacher made me apply for an Art Foundation at City College Brighton and Hove (now Met). That year changed things for me and opened doors to university study.
"The arts have led me to amazing opportunities and is a huge part of who I am, which is why I was drawn to studying at Sussex for my MA. The culture at Sussex is open-minded and I wanted to study across disciplines (English and Philosophy), as well as to integrate my masters with my undergraduate studies in photography and visual culture. I've been wholeheartedly supported by Sussex throughout my MA. Going there is one of the best decisions I have ever made.
"Winning the Social Impact Prize is life-changing. I had zero expectations of being successful when I entered for it. I've already had huge support since winning and I've made lots of connections, but the most emotional part about winning was the validation. I've spent a long time sitting with death, reading, researching, and questioning how society copes with the worst and it was amazing to have people listen to me. As grievers will know, being listened to doesn't come easy. Death is really hard to talk about and I am grateful to the panel of judges and Simon Chuter (who runs StartUp Sussex) who were all hugely empathetic and listened to my back story and vision.
"StartUp Sussex taught me to dream big and I am taking that mindset with me as I move onwards. Death and grief support could be so much better by drawing from wider sources and right now that couldn't be more important. There will be a huge shift in conversations about death and if I can be a part of that movement that will be big for me. My ultimate goal is to turn over enough money to not only sustain the enterprise but give back to society. Death often means being left behind, so another layer is about fighting social isolation.
"Louise On Death is an early-stage social enterprise looking to launch in the latter half of 2021. The vision is to build a brand and community that unashamedly and creatively explores death, an idea that formed as I embarked on my master's thesis about narrative theory, photography, and death.
"My social enterprise is wrapped up in a very personal journey of me navigating the sudden death of my father. When I don't understand things, or I am confused by a situation I tend to gravitate towards it. Obviously, this is controversial as a profound turning away or hope for swift recovery is usually the expected when it comes to death. It's about authority. If I can put my name next to death then I hope it will allow others to know that's it's okay to go to that space and sit in line with their reality rather than being forced to move on; further to this, it's about having a voice about death. Death has become very depersonalised and that is a huge problem that I hope to raise further conversation about.
"I am so grateful to the alumnus who funded the Prize – I'll always be thankful for their kindness. The opportunities that winning has brought me are already having a massive impact on my life and it's incredibly empowering to know that someone has such confidence in you. That's huge!"
Sussex has always attracted entrepreneurial individuals who strive to make a difference. It was a desire to make a positive impact on the world that was the driving force behind a generous private donation from a Sussex alumnus that led to Sussex establishing the Social Impact Prize as part of the StartUp Sussex scheme.
You can empower more students like Louise by making a gift to the Sussex Fund.
---
You might also be interested in: