"Education is the most powerful weapon which you can use to change the world."
Nelson Mandela
The Mandela Scholarship Fund provides the means for students from Southern African countries to realise a dream and study at Sussex. The fund was established in 1973 by the University of Sussex Students' Union, highlighting its anti-apartheid stance and commitment to enabling students to access higher education without racial discrimination. Mandela Scholarships have since supported more than 70 individuals who have ultimately become leading scientists, environmentalists, development professionals and government ministers.
2018 marks the centenary of Nelson Mandela's birth, and to celebrate his life and lifetime achievements we are raising funds to support future Mandela scholars at Sussex.
You can commemorate the life of Nelson Mandela, and celebrate all that he accomplished by making a gift today.
Nelson Mandela became a global icon for the struggle against apartheid and human injustice around the world. Throughout his life, Mandela believed that education could act as a route out of grinding poverty. While only 7% of people have a graduate degree in South Africa, 95% of these are in employment, compared to just 55% of those who only have a high school diploma.
Education raises aspirations and a Mandela Scholarship gives bright Southern African students the opportunity to study a Masters degree, providing them with even greater potential to succeed, and ultimately contribute to their communities.
As the first black President of South Africa, Mandela believed that education was key to shaping a nation:
"The power of education extends beyond the development of skills we need for economic success. It can contribute to nation-building and reconciliation."
The Mandela Scholarships support this ideal.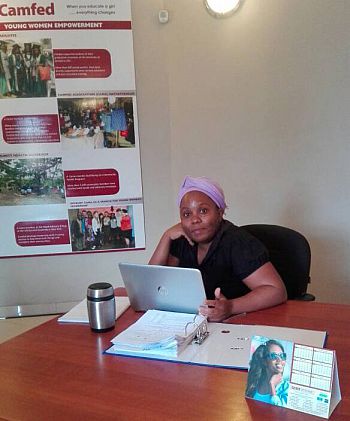 One recent beneficiary of a Mandela Scholarship at Sussex is Regina Lialabi from Zambia.
"My late father was the first member of his family to receive an education and he worked as a teacher. However, my mother only had limited schooling and never had a job. This motivated her to see to it that all seven of her children received an education."
After completing her secondary school studies in Botswana, Regina got married. Surviving a subsequent ordeal of gender-based violence, she took the bold step of filing for divorce:
"I was granted custody of two girls of two-and-a-half and five-years-old. I struggled financially, but I was determined to explore further education because I believed it was the best pathway I could follow to progress my career."
Regina now heads-up the Impact Team at Camfed Zambia, tracking the effect of the organisation's programmes which support girls through education, empowering them to transition into secure careers and to step up as leaders after they have completed their studies. She cites the enormous personal value of her Mandela Scholarship:
"The scholarship provided me with the financial, material and emotional resources I needed to pursue a Masters degree. I acquired cutting-edge skills and knowledge in gender and development, which has defined my career trajectory."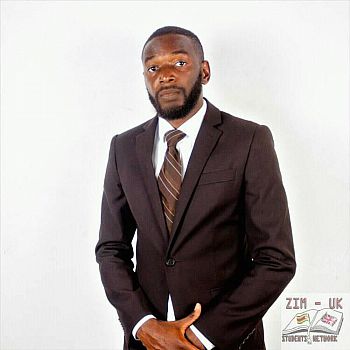 Like Regina, Josh Chivanga from Zimbabwe also benefited from the Mandela Scholarship programme. Josh was raised in a single parent household, only to lose his mother when he was just 17 years old. Thanks to the support of his extended family, he was able to continue his schooling, and went on to study at the University of Zimbabwe, after which he commenced a career in human rights advocacy.
It was whilst attending a United Nations Learning Exchange Fellowship in Geneva that Josh met Carlyn Hambuba from Zambia. Carlyn was a Sussex Mandela scholar. She encouraged Josh to apply to the programme:
"I confided in Carlyn my dreams of furthering my education, which had ground to a halt because of financial hardship, and she encouraged me to apply for a Mandela Scholarship. Actually being awarded the scholarship was surreal! I felt both privileged and excited to be given the opportunity to advance my studies by taking a Human Rights MA.
"The Mandela scholarship fully supported me and ensured I was able to concentrate on my studies without worrying constantly about the considerable financial burden that typically comes with university studies, especially in another country."
On his return to Zimbabwe, Josh founded the charitable organisation ZIM-UK Students Network (ZIMUKSN), which provides academic and career guidance, mentoring and vocational support to students in Zimbabwe and the United Kingdom.
"Without the Mandela Scholarship and the chance to undertake postgraduate study at Sussex, I might have been content with joining a mainstream organisation and doing ordinary advocacy work. However, my horizons were broadened, and the programme gave me the courage and vision to become a change-maker by forming my own organisation."
Make a gift today and change a life forever. Your support will provide the opportunity for other intelligent, innovative, young Southern Africans like Regina and Josh to study for a Masters at Sussex.
About the Sussex Mandela Scholarship Fund
Mandela Scholarships are offered at postgraduate level to South African students or students from within the Southern African Development Community (SADC).
The scholarships are intended to support individuals that have been disadvantaged through apartheid.
The scholarships support students studying a development-related discipline, or a course that is unavailable in their home country.
A key intention is that Mandela scholars will return to Southern Africa and apply their knowledge and skills constructively.
Two scholarships are offered each year, for a one- or two-year taught Masters programme.
Scholarships are not allocated for research projects or programmes.
The cost of supporting a scholar for one year is £12,000.