Bringing together researchers from the humanities and social sciences, this strand of research includes research on: war and memory in Algeria and Zimbabwe; comparative research on nationalism citizenship and history teaching in African schools; research on print media and popular culture; life histories and biography, and the cultural politics of urban space in Africa. Funders include AHRC, ESRC, ERC and charitable foundations. Members maintain links with the Centre for Colonial and Postcolonial Studies.
Specific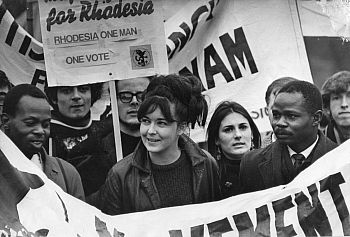 projects and initiatives include:
Hidden Histories: Untold Stories of Pipelines, People and the Sea in Tanzania, funded by AHRC/GCRF (Thembi Mutch, Anthropology)
Luxury consumption in Africa (supported by the Sussex Asa Briggs Fellowship) (Simidele Dosekun)
War, Memory and Decolonisation in Algeria, funded by the British Academy (Martin Evans)
Biography of Idi Amin, funded by the Leverhulme Trust (Mark Leopold)
African writing and literary representations of trauma and conflict (John Masterson)
The Transnational Politics of Exile and Solidarity in Zimbabwe, funded by ESRC (JoAnn McGregor)
---
Banner image: Joshua Nkomo and Robert Mugabe signing the Lancaster House agreement, London. Zimbabwe National Archive.
Content image: Judith Todd and Francis Chitsiga, Justice for Rhodesia rally, London.