News
Find out about the latest sustainability news at the University of Sussex.
New year, new (more sustainable) you
By: Martha Knott
Last updated: Friday, 7 January 2022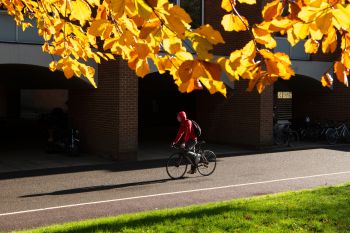 Many of us set our sights on getting fitter, healthier and more active in the new year. This year, why not use your New Year's Resolutions to commit to becoming more sustainable?
Read on to find out how you can use your resolutions to not only get fitter, but also reduce your carbon footprint, save money, and join a university wide effort to be one of the most sustainable universities in the world!
Get fit while saving money and the planet with EcoGo
Have you signed up to our sustainable and active travel rewards scheme, 'EcoGo'? If not, now is the perfect time!
With EcoGo, every time you walk, cycle, wheel or take public transport you can earn points to spend in your favourite shops (including great local offers on campus) or to give to charity. So, by making a resolution to choose sustainable and active travel in 2022, you can save money and help save the planet at the same time
Signing up couldn't be easier. All you have to do is download the BetterPoints app and register an account with your University of Sussex email address.
So, join in, give it an EcoGo, and start earning points today!
Join Team Sussex for the 2022 Brighton Marathon Weekend
Are you looking to set yourself a challenge for the new year?
With three months until the Brighton Marathon Weekend on 10 April 2022, it's a great time join our community of runners and cyclists and race for the planet to support our aims to create and maintain a more sustainable and biodiverse campus in Falmer.
By joining Team Sussex - made up of our staff, students and alumni - you'll get fit, make new connections, and fundraise for a cause that is important now more than ever. It's free to take part, and we will provide you with all of the training and fundraising support that you need to succeed in your chosen event.
We currently have limited availability for the Brighton Marathon, the BM10K (10km walk/run), and the BM Ride (50km bike ride) events. Find out more and sign up here.
Want to know more?
The University of Sussex is committed to being one of the most sustainable universities in the world. You can learn more about our sustainability strategy and how we are supporting you to be more sustainable on our new sustainability web pages.
You can also contact the sustainability team at sustainable@sussex.ac.uk for more information about anything contained in this article or our wider sustainability policy and strategy work.