Placements
Recruiting a placement student is a great way to access new skills and to identify and review a potential future employee.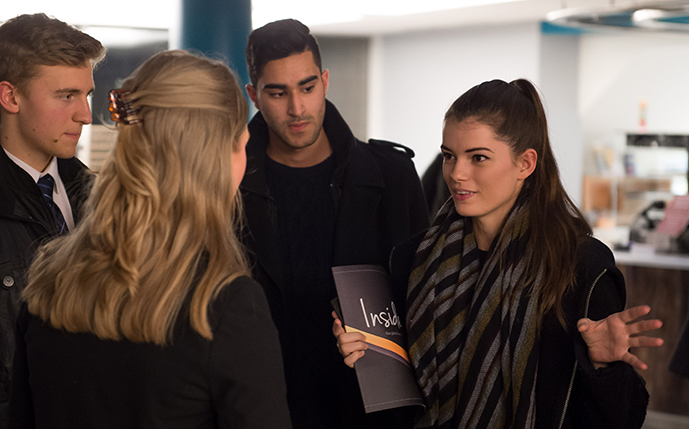 How it works
Your placement student will work within your organisation for one year, between their second and third year of study.
The placement opportunity is open to students studying all subjects, so you can find someone who has the right skills, knowledge and interests for your job role.
Benefits of employing a placement student
identify potential graduate recruits early on - with the opportunity to review their performance over the course of a year
be supported by the University of Sussex - with regular contact and feedback from Sussex tutors, your placement student provides a direct link to the collective knowledge of a university that is ranked within the top 20 in the UK
gain an enthusiastic member of your team, with up-to-date skills and knowledge developed during their first two years of study.
Employer requirements
To hire a Sussex placement student, you must provide:
a clear job description and contract for the placement, signed by yourself and your placement student. The role must be approved by the University of Sussex before the placement starts
a named line manager for your placement student, who will be the main point of contact for the University
an appropriate induction to the job role, including information about company procedures and health and safety
training as required, which could include preparation for the working environment, mentoring, coaching, staff development workshops or learning from colleagues
your placement student's salary for the year as appropriate for the role, sector and location - the national average for placements is £21,264 (

Student Recruitment Survey 2022, Institute of Student Employers

)

per year and Sussex placement students must be paid at the National Living Wage or higher (unless the placement is a voluntary position for a charity or a public service placement)
evidence of your liability insurance covering the role.
University support
We remain in contact with your placement student and your organisation throughout the placement period, and provide a range of support:
you can advertise your placement opportunity for free via our jobs portal
all students have access to a comprehensive placement preparation programme before undertaking their placement year
you will have a point of contact at the University within our Placements team, and will receive support in relation to risk assessment and ensuring the placement meets the University's placement compliance guidance
your placement student will also have a designated Placement Tutor who will act as a mentor and monitor their performance, visiting them during their placement if appropriate.
How to recruit a placement student
Hiring a Sussex placement student through our placement programme is straightforward and efficient, as well as providing protection for your organisation and your placement student.
Get in touch with our Placements and Work Experience team if you have any questions
Submit your placement details to CareerHub to be advertised to our students
Once your placement student has been recruited - receive and complete our simple online form.
Contact us
Placements and Work Experience team,
Careers and Employability Centre,
The Library,
University of Sussex,
Falmer,
Brighton,
BN1 9QL
+44 (0)1273 678429