Latest news
City council bestows civic honour on University of Sussex and other pandemic helpers
Posted on behalf of: University of Sussex
Last updated: Friday, 16 July 2021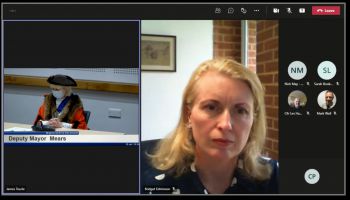 The University of Sussex has been recognised with a local civic honour for showing "inspirational, selfless devotion" during the Coronavirus pandemic.
The Deputy Mayor of Brighton and Hove, Councill Mary Mears, bestowed the freedom of the city on "all those who helped during the Covid-19 pandemic" at a special meeting of Brighton & Hove City Council on Thursday (15 July). The award was received on their behalf by the council's Chief Executive, Geoff Raw.
A representative sample of the individuals and organisations to be honoured were invited to join the meeting virtually. They included Bridget Edminson, who has led the University's response to the pandemic. Her team has won two national awards and has been commended by a Cabinet Office taskforce that reviewed how universities were responding to the pandemic.
Vice-Chancellor Adam Tickell commented: "I want to thank the hundreds of members of staff across campus, and our Covid lead Bridget Edminson, who were instrumental in us receiving this honour for our local response to the pandemic.
"Many people have been involved in this effort and it has truly been an example of collaborative working across teams."
Bridget said: "Our Covid response has been a huge team effort, drawing in support and help from people across the University."
A report to local councillors before the meeting said: "A number of individuals from the public, business and voluntary sector have contributed to the fight against the Covid-19 pandemic and shown inspirational, selfless devolution in supporting the city during what has been one of the most challenging periods in its history."
In May last year, Brighton & Hove City Council honoured more than 100 Covid-19 Community Champions for supporting others in the early months of the pandemic.
Among them was Scott Noble, Head of Facilities Management at the University of Sussex, who was instrumental in the crisis management planning for Coronavirus on the Sussex campus. Scott received an award for his pragmatic, 'can do' attitude, which ensured the delivery of essential services to over a thousand students and staff who remained on campus during the first lockdown.