Broadcast: News items
University's Covid response recognised by double award
By: Sean Armstrong
Last updated: Friday, 18 June 2021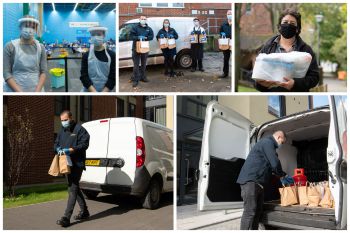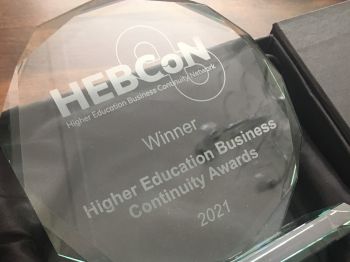 The University of Sussex has won twice in this year's Higher Education Business Continuity Network (HEBCoN) annual awards - in the categories of Innovation or Breakthrough, and Incident Management.
HEBCoN has more than 100 member institutions across the UK and recently expanded its membership overseas.
Vice-Chancellor, Adam Tickell commented: "I want to congratulate the hundreds of members of staff across campus, and our Covid lead Bridget Edminson, who were instrumental in us receiving these two awards. These are for our sector-leading response to Covid. The first award, in the Breakthrough category, was for the development of our Covid reporting app, which helped us to better manage and contain the virus. The App was developed by Nicole Ingerson and Becky Howard, building upon a prototype reporting tool created by Alistair Hardwick. We have used it to support our contact tracing and data analysis, currently managed by Ben Toogood, supported by Roxana Vaduva and Femi Danso – two of our graduate interns.
"And for the second year in a row we received the top award for Incident Management in recognition of how we handled challenging aspects of the pandemic; many people have been involved in this: Ben Toogood, the Health & Safety Team, Student Welfare, EFM, SEF, ITS, Comms, EngInf, BSMS and the Testing & Vaccination Steering Group. It has truly been an example of collaborative working across teams."
HEBCoN recognised that the reporting app supported the University in being able to respond quickly to identify and isolate those who might have contracted Covid-19, and so better manage and contain the spread of the virus.
It enabled University Covid19 data to be managed securely, providing vital real-time information to partners and supporting contact tracing.
The second award, in the category of Incident Management, was granted to the University in recognition of how it handled aspects of the pandemic.
This involved working closely with local partners, including the accommodation of an Emergency Temporary Mortuary on site and providing temporary accommodation for local responders in the early stages of the pandemic.
In both awards categories, the judging panel felt that our submissions stood out because they demonstrated a commitment to engaging with the wider community while responding to the pandemic.
In submitting nominations for the awards, the University stressed that its Covid response has been a huge team effort, drawing in support and help from people across the University.