Sussex staff member recognised as a Covid-19 Community Champion
Posted on behalf of: Estates and Facilities Management
Last updated: Friday, 15 May 2020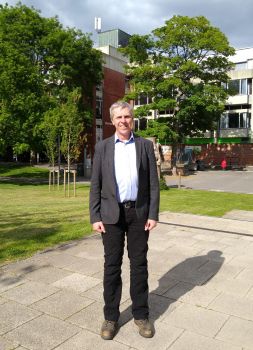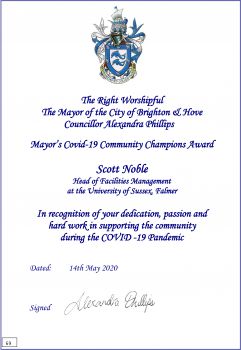 A senior member of the Estates team at the University of Sussex has been recognised by the Mayor of Brighton and Hove for going above and beyond the call of duty to help the community during the Coronavirus pandemic.
Scott Noble, Head of Facilities Management at the University, was named a Covid-19 Community Champion in recognition of his "dedication, passion and hard work" in supporting others throughout this extraordinary and unprecedented period.
A panel of community leaders - chaired by the Mayor, Cllr Alexandra Phillips - selected people living or working in Brighton and Hove who have shown "outstanding community spirit" and whose practical action has made a "direct and significant positive impact on the lives of others".
Scott, who has been instrumental in the crisis management planning for Coronavirus on the University of Sussex campus, received an award for his pragmatic, 'can do' attitude, which has ensured the delivery of essential services to over a thousand students and staff who have remained on campus during the lockdown.
Scott said he was "humbled" to receive the honour and added: "At Sussex I'm fortunate to work for leaders who care about their staff and students and demonstrate that through acts of kindness and appreciation.
"In each area of activity, a team of people has been working with me to achieve the best results we could in difficult circumstances. I accept the award graciously, but my thanks extend to everyone else who made these things possible."
Leading from the front, Scott has supported the essential workers at Sussex responsible for security, catering, cleaning and facilities management, as well as the campus supermarket.
His caring and empathetic nature has also been evident in the emotional support he has offered to many vulnerable students on campus.
In addition, Scott has acted quickly in response to requests from health and government authorities to assist during the Coronavirus pandemic.
He co-ordinated campus accommodation and ongoing support for military planners who were deployed in the Brighton & Hove area, and brought his no-nonsense, solution-based style of management to a Brighton & Hove City Council working group that was set up to establish a temporary body storage facility on the University campus in case it should be needed.
The Mayor said: "It's been wonderful to see such incredible community spirit these last few weeks, with people rallying together to help each other during this crisis and making sure everyone in our city is cared for.
"I would like to thank everyone for their efforts during this difficult time … You are all heroes."
Cllr Phillips congratulated Scott and the other Covid-19 Champions during a meeting of Brighton & Hove City Council (BHCC) on Thursday (14 May).
Once the lockdown is over and it is possible for people to gather together, all of the Covid-19 Community Champions including Scott will be invited to a celebration in the Mayor's Parlour to thank him and the other Champions for the contribution they have made to their community.
Robert Hutton, Director of Estates, Facilities and Commercial Services at Sussex, praised Scott's "outstanding leadership" and said: "We are all extremely grateful for Scott's sense of duty, his compassion and commitment to the University of Sussex and wider community of Brighton and Hove."
If you'd like to leave a comment, enter your ITS username, password, and your comment. The comment may need approval before it is displayed, so don't expect your comment to appear right away.
By submitting a comment you are agreeing to the Acceptable Use Policy.