News
Local Nursery run by Sussex Alumnus is named 'Nursery of The Year 2022'
By: Heather Stanley
Last updated: Thursday, 13 October 2022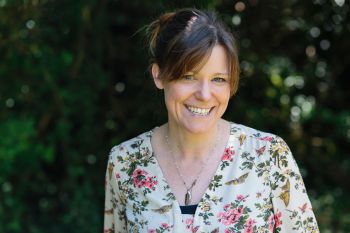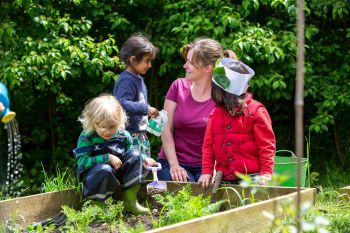 2022 has been a good one for Sussex alumnus, Lucy Owen-Collins. Not only did her Portslade-based Forest Kindergarten, Bee In The Woods, achieve an 'Outstanding' judgement by Ofsted, but it was also crowned Nursery Of The Year by the Nursery World Awards 2022 on 24 September.
Lucy, 'Director and Head of Adventures' at Bee In The Woods, graduated from the Early Years Education MA (with Early Years Teacher Status) course in the Department of Education at the University of Sussex in 2020, and since then her nursery has become a key partner for the course - offering placements and day visits to current trainee students.
Established just four years ago, Bee in the Woods is Brighton & Hove's first exclusively outdoor nursery situated in an enclosed wooded area on the edge of Foredown Allotments. It has no electricity or running water from November to March, and compost toilets. As much as possible is recycled, found or re-used. Children aged 3-6 years play, read, sleep, and conduct various table-top activities in rustic wooden shelters and use the woods around them to climb, balance and swing. Woodwork and campfire cooking are among the children's' favourite activities, along with visits to the local beach.
Speaking of her achievements this year, Lucy said:
"We were over the moon to be shortlisted along with four other wonderful childcare settings, and it is a true honour to be recognised at such a level. I'm so grateful to the amazing team in the Early Years Education Department at the University of Sussex for their support and inspiration whilst studying for the EYT/MA course - and subsequently in our partnership as we are a mentor placement for students. Our ongoing involvement with the University has meant that we are continuously reflective, research driven and fresh in our approaches to Early Years Education which has benefited our team, children and families."
The Early Years Education MA course enables its students to work with children from birth to five years old (including Reception) in the public and private sectors and to achieve Early Years Teacher Status in just one year. Teaching is led by notions of what constitutes 'quality' early years education; equity, inclusion and justice for the pre-school child and the wider family; communication, imagination, language and literacy, and provision for the bi/trilingual child. Students can choose from two routes: an employment-based route for those already working in an Early Years setting, and a placement route for those not currently working in the sector.
Lucy's tutor whist Lucy studied at Sussex, Early Years Education MA Course Leader and Senior Lecturer in Education, Jacqueline Young, said:
"It has been such a privilege to support and work with Lucy through the unique combination we offer at Sussex of a rigorous academic research degree delivered alongside pedagogic Early Years Initial Teacher Training. Lucy and her team have worked very hard to achieve this well-deserved accolade and develop Bee in the Woods into the flourishing Early Years setting it is today. We are very proud of Lucy – as well as the other students and staff members she has gone on to support through our course since she graduated in 2020."
The passionate and experienced staff team at Bee In The Woods facilitate development by listening and learning through play, and believe in the power of nature to bring families and communities together. At Bee In The Woods, children and adults are viewed as equals in a community of learners, spending 'together time' each day talking, playing games and sharing. They also eat together at picnic tables. The curriculum is entirely child-centred. Influenced by the philosophies of Froebel and Scandinavian Forest Schools, it focuses on the importance of the natural world, of community, and the power of play. Parents and families are an integral part of the kindergarten community.
Although the business is small and money tight, the setting offers fully funded places to families in need from the local area, and works closely with neighbours and community groups. It runs weekly woodland playgroups from Stanmer Park, and offers training and support to other Early Years practitioners.
The kindergarten waiting list is currently full for 2022/23, but Lucy and her team hope to expand by working with Brighton & Hove Food Partnership on an additional woodland site in Stanmer Park.