News
Business School staff give back to the local community
By: Gala Orsborn
Last updated: Monday, 3 October 2022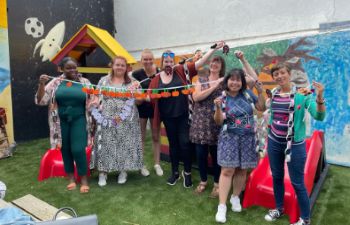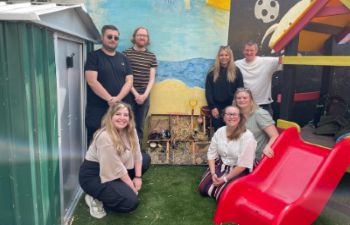 Business School Professional Services staff opted to volunteer their time to help several local charities in Sussex over the summer as part of their staff 'Away Week', one week in the year where staff are encouraged to explore both professional and self-development training.
The volunteer day provided staff with a unique opportunity to not only get to know their colleagues in a new setting, but to also give back to the local community.
Activities included a gardening task at Raystede Animal Sanctuary, clearing a pathway for visitors to walk. The Sanctuary has been established for 70 years, working to alleviate animal cruelty, as well as rescue, rehabilitate and provide sanctuary for animals in need.
Two groups of staff from the Business School went to the Ronald Macdonald House Charity in Kemp Town, Brighton for the day to lend a hand. Ronald McDonald Houses Charities UK provide 'home away from home' accommodation for families with a sick child, free of charge. One group spent the day creating seasonal decorations and crafts for the house to use at parties, and the second group built a bug hotel for the garden, to encourage wildlife and increase biodiversity.
Volunteers also assisted Martlets charity by creating a banner for their 'Fire Walk' taking place this September. Martlets provide essential care and support services to local people affected by terminal illness. They provide facilities for families to stay with their loved ones whilst administering round-the-clock care, as well as assisting families choosing to stay at home throughout their treatment.
The remaining team joined the well-established Brighton Beach Clean, spending an afternoon cleaning Hove beach for Brighton Council.
Suzy Brown, School Coordinator for the Executive team said:
"Over-all the day was a great success, with the charity grateful for our help. The teams got on well and people from different departments had an opportunity to get to know each other better"
Asal Lolachi, Course Coordinator for Accounting and Finance said:
"I spent a wonderful day at Raystede Centre for Animal Welfare! As well as carrying out something in a small-scale for the centre by helping them with gardening, it was a great opportunity to visit the animals and of course spending great time with the team outside the usual business environment. Once more, it was proven that teamwork is a precious gift and wonderful opportunity where people can bond and enjoy the sweet taste of achievement!"