News
East Slope Road is closing
Posted on behalf of: Campus Development
Last updated: Wednesday, 5 October 2022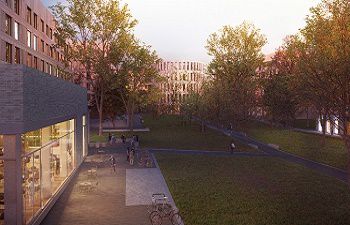 There will be some major road changes on campus this week as we continue to prepare our campus for the West Slope development. Our next phase of works will see heating, gas and electric works taking place across the road junction between East Slope Road, Refectory Road and Northfield Lane. This work will see a large pit being dug and will involve drilling, excavation, and the installation of new utilities.
From Friday 7 October, East Slope Road will be closed to through traffic, becoming 'access only'. At the same time, the road junction between Refectory Road and Northfield Lane will close, and a new temporary road will open and will become the main vehicle route to reach Lewes Court, Northfield and the north of our campus.
To help manage the flow of traffic, there will be traffic lights on Refectory Road and the new road. Norwich House Road and Lancaster House Road remain open but will also have traffic lights. You may find that Refectory Road is slightly busier due to the road closure, so please drive carefully and be mindful of pedestrians crossing the road.
There will also be some pedestrian diversions - those wishing to access Brighthelm will need to follow routes via East Slope, and those wishing to travel between central campus and the Health Centre, Lewes Court and Northfields, should use the main pathway (highlighted in yellow on our campus map).
The Brighton-bound Bus Stop at the bottom of Northfield Lane will also be closed. Instead, passengers can board buses to Brighton at the northbound Bus Stop, which can be found opposite Car Park 9 in front of Lewes Court. The bus will then loop around Northfield and out towards Brighton.