News
New Campus Playground and Basketball Court Celebration
Posted on behalf of: Campus Development
Last updated: Thursday, 4 August 2022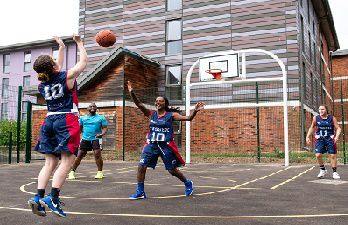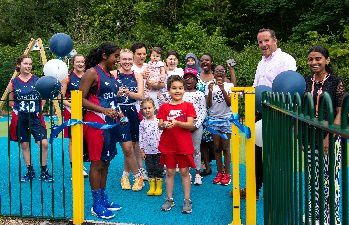 Our campus playground and basketball court both have a new home, and National Playday on 3 August, provided the perfect opportunity to celebrate!
Work is underway to prepare our campus for our new West Slope development and with the old playground and basketball court falling within the West Slope development area, their relocation presented a great opportunity to enhance our facilities by providing new play and sports equipment and upgrading the environment around them.
To celebrate our exciting new facilities, the Student Union and University of Sussex hosted a party for campus families, with Yusuf Yusupov, one of our young campus residents, bestowed the honour of cutting the ribbon on our new playground with the help of University of Sussex women's basketball team player Amani Al Zawawi.
The new playground provides some fun colourful favourites such as swings, a playhouse and bouncers and has created a bright, safe environment for families visiting or living on campus to play and socialise. The new basketball court, which sits just behind the playground, is another place where children and adults alike can enjoy being outside, socialise and have fun together.
Leading developmental psychologists from the University of Sussex have highlighted the huge social benefits of children having the opportunity to play. Playday, which had the theme 'All to play for – building opportunities for all children' this year, encourages families, communities, and organisations large and small, to consider how they can build better opportunities for all children to play to support their physical and mental health, improve social skills and help them connect with their communities.
Robert Hutton, Director of Estates, Facilities and Commercial Services at the University of Sussex, said: "Providing engaging, safe and, importantly, fun, spaces for our campus families to play is hugely important to the University, and so we're delighted to have invested in creating this fantastic new playground as part of our West Slope development.
Professor Robin Banerjee, Head of Sussex's School of Psychology, who was one of a group of UK mental health experts to make headlines in May 2020, when they called on then education secretary Gavin Williamson to prioritise play following the first national lockdown, voices support for the national day for play, which celebrates children's right to play, as well as promotes the importance of play in children's lives, saying:
"As we continue to navigate the challenges of the Covid-19 pandemic, much has been said about the need to help children catch up on 'lost learning' in relation to academic skills. But we also need to support children's development in a much broader sense. Evidence shows that children's mental health has been affected by the global pandemic, and we must provide ample opportunities for children to build and maintain positive social relationships.
"Play is crucial for the socio-emotional and socio-cognitive development of children and young people. It serves as a key context within which children establish and develop their peer relationships, which in turn are so important for the development of their social and emotional skills, mental health, and wellbeing."
A further playground is planned as part of the West Slope development. Located near to new family residences, the playground will create an additional outdoor space for families to enjoy their surrounds, socialise and stay active.
The new playground and basketball court can be found next to Northfields residences (block 1).