Our Sport Scholars have gone on to achieve some amazing things.
Laurence Halsted - Fencing
(Psychology 2003)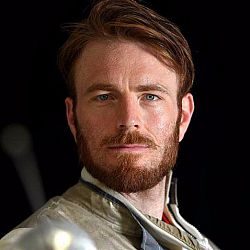 "I remember the feeling of support I received from being a part of the Scholarship Scheme, knowing that I had allies in the University. That meant a lot to me, and I'm genuinely happy to have been able to continue my relationship with Sussex after graduation."
Whilst at Sussex, Laurence was part of the Fencing Club but also captained the Rugby 1st team in his final year! Laurence has twice competed at the Olympic Games for the British Fencing team, in Rio in 2016 and in his hometown, London, in 2012. He has won silver and bronze European Championships medals and currently works as the Performance Director for the Danish Fencing Federation.
Laurence is also the Mentoring Program Coordinator for the True Athlete Project (TAP), a unique and inspiring initiative that aims to improve athletic performance, nurture mental health, and cultivate a more compassionate society by delivering mindfulness-based programs for coaches and athletes of all sports, and at all levels, from grassroots to Olympians. Sussexsport are proud to partner with TAP and offer mentoring opportunities for our current
Rose Thomas - Hockey
(Biomedical Science 2010)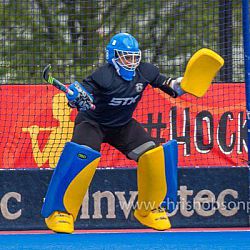 "My Sussex Fund Sports Scholarship allowed me to continue to represent my country during my studies. The athletes in the Wales senior women's team are all self-funded, so the financial support from my Scholarship allowed me to pay for essential equipment, travel, training and competition costs. I was also able to organise a few individual training sessions with external coaches to enhance my development. I loved my time at Sussex and I will always be grateful for the support I had."
Rose is a goalkeeper for the Welsh international hockey team, for whom she has over 50 caps. She made her debut in 2011, having played in the junior age group national teams since she was 13. She was recently called up to the Great Britain women's hockey squad for the first time and joined them in the five-match Test series in Argentina in early 2018.
David Stone MBE - Para-cycling
(Social Work 2003)
"The scheme at Sussex helped with the crossover between sport and study, offering motivation and ensuring I was able to achieve in both. The comprehensive support package allowed me to aim for the skies in my pursuit of Olympic Gold."
David returned to his love of cycling while studying at Sussex and his obvious talent got him a place on the Sports Scholarship Scheme. In 2005 he started racing full-time.
David specialises in the Road Race and Time Trial events and has won multiple medals in the World Paracycling Championships and Paralympic Games, including triple Gold Medals in Beijing 2008 and London 2012 and Silver in Rio 2016. In 2009 he was awarded an MBE.
Lena Erdil - Windsurfing
(Politics and Philsophy 2008)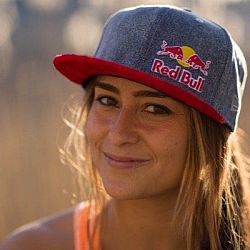 Lena came to Sussex after being awarded an athlete grant for her sporting discipline windsurfing slalom. As well as academic success, 2008 saw Lena come fourth place in the PWA World Championship in Çeşme. She won her first race during the Aruba leg of the PWA Championship in 2011, the same year that she joined Red Bull. Lena has since earned top 10 finishes in the PWA Championship in Women's Slalom, with her ultimate goal to become World Champion in the near future.
"The Sports Scholarship at the University of Sussex enabled me to continue competeing while I was studying.
"Academic flexibility was crucial for me as I was able to reschedule exams or project deadlines to match my competition schedule. At the same time I worked with professionals at the University by creating a training program which matched my needs for the off water training. I am geatful to have had this support throughout my time here and would recommend applying for this scheme to any serious athlete who wants to combine their career with their sport."
In June 2018, Lena competed in the PWA Windsurfing World Cup in Portugal and finished in second place in the overall classification of the third leg of the competition.
Between her training and performance success, Lena has run the Lena Erdil Windsurf Center in Turkey hosting events such as the Pro-X-Train training camp for professional athletes. She has her own website and blog which you can view here.
Ashley Yeo - Ultimate Frisbee
(Engineering 2009)
Ashley was a key member of the Sussex Mohawks, the University's Ultimate Frisbee Club, while at Sussex - helping the men's team to reclaim the top spot as national champions in the 2017 British Universities and Colleges Sport (BUCS) league. In summer 2018, Ash was part of the Clapham Ultimate team that travelled to Ohio for the World Ultimate Club Championship where they finished in 10th place.
Emily Llewellyn - Equestrian Event Riding
(BMEc 2010)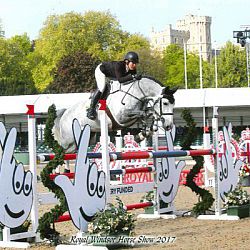 Emily is an Equestrian Event Rider and Businesswoman. Emily is the only rider to have ridden on eight consecutive Youth European Championship Teams, winning six Gold, one Silver and two Bronze medals. She is also the only rider to have won all of the U16, U18, U21 and U25 National Championships. In addition to this, she is involved in the business side of her profession, with horse breeding and sales. Since moving up into the Senior Rider age group, Emily has finished in the top 25 at eight 4*Events, including being leading under 25 Rider at both Badminton and Burghley on several occasions. Emily has now completed Badminton 5 times and in 2016 she was awarded her Armada Dish in recognition of this.
She has also represented Great Britain on many Nations Cup teams, with many wins and placings, both team and individually. Emily has been a listed reserve for Senior Championships, and was long listed for the London Olympics. She is now working hard to fulfil her dream of representing Great Britain on a Senior Championship Team.
Rosalie Fairburn (nee Birch) - Cricket
(Linguistics 2003)
Rosalie was a Cricket Sport Scholar while studying at Sussex. An off spinner and lower middle order batsman, she was part of the England team that won the Ashes in 2005 and retained them in 2008. She has played seven Test matches, 37 One Day Internationals and four Twenty20 Internationals, and is a board member at Somerset County Cricket Club.