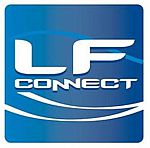 LF Connect allows you, the member/exerciser, to workout your way whether for fitness, sport or well-being. Simply go to ­­­­­­­­­­www.lfconnect.com and register to start designing your own workout, recording your workouts and sharing your workouts. To allow your programs to be used on the consoles you will need to get the free LF connect app.
Why should I get the LF Connect App?
LF Connect lets your control your own workout experience – for example.,you want to do a workout that is not programmed on the machines – simply create, share and personalise your own – manipulating time, speed and intervals. You can use LF Connect (App or computer) to create your workout at home or even on the way to the gym. When you arrive your workout is ready to go.
The LF Connect App also allows you to log your strength session as well as record any exercises you do outside the gym – use the app to record your run or bike ride. Each resistance machine will have a QR barcode to scan, then simple record your sets, reps and weight, keeping your workout logs all in one place.
To find out more on the LF Connect App and software click on the following link to view videos.
Once you are connected join the Sussexsport group and share your own workouts and look for new workouts shared by other members and by Sussexsport.