Paraorchestra visit University of Sussex
By: Terry Cooper
Last updated: Wednesday, 15 June 2022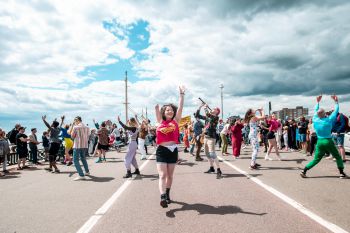 Paraorchestra, the ground-breaking charity organisation, recently visited University of Sussex while practicing for their most recent project SMOOSH! as part of the Brighton Festival in May.
Paraorchestra is the world's only large-scale virtuoso ensemble of professional disabled and non-disabled musicians. Their mission is to redefine what an orchestra can be through the visible participation of talented disabled and non-disabled musicians playing old and new repertoire through digital or assistive instruments alongside traditional ones.
The Bristol-based group are working towards creating a new 'breed' of orchestra that belongs at rock festivals just as much as in a concert hall; reaching the broadest range of audiences. Paraorchestra's most recent and biggest commission SMOOSH! achieved this, by bringing their diverse range of musicians and dancers to Brighton Festival in May.
The SMOOSH! parade, made up of over 50 local players, excellently performed a variety of music including Fatboy Slim, Kate Bush, Basement Jaxx, and Adele alongside a group of professional and community dancers. The event made a fantastic contribution to this year's Brighton Festival which took place between 7-29 May 2022.
To prepare for this event, Paraorchestra utilised our facilities, here, at the University of Sussex. During their time rehearsing at the Sports Centre on campus, the project coordinator, Caitlin Fairweather, commented that:
'The Sports Centre's staff, accessible facilities and spaces were all of an exceptional standard. Your team was warm, accommodating and helpful to all of our company members, and handled accessibility queries with respect and care.
'Company members who use wheelchairs were able to rehearse without the stress of hard to get to and poorly kept accessible washrooms, and creaky old wheelchair lifts. The rehearsal spaces themselves were perfect for our needs, and the car park proved to be an excellent space to rehearse a marching band!'
Caitlin Fairweather added that as a company, Paraorchestra are used to having to compromise to meet their requirements but found that 'Your facilities and team were of such an exceptionally high standard that we did not have to worry about so many things which are usually in the forefront of our minds.'
Sussexsport are proud to have worked alongside such a unique Charity and hope to see them again next time they return to Brighton. To find out more about Paraorchestra and their upcoming projects, find their website at https://paraorchestra.com/.