Campus sports facilities reopening from 12 April
Posted on behalf of: Sussexsport
Last updated: Wednesday, 7 April 2021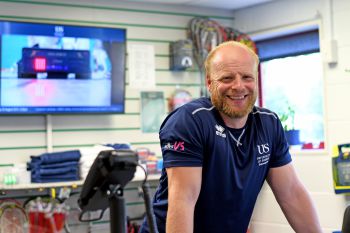 We're counting down to welcome you back
We're pleased to announce that the Falmer Sports Complex fitness rooms will reopen from Monday 12 April, with our COVID-secure procedures in place to ensure that you have a safe and enjoyable experience when you see us again.
The Sport Centre remains closed for recreational use while we continue to support the University's testing programme.
We hope to begin a phased reopening of some of the Sport Centre facilities, like the fitness room and squash courts, very soon.
Following the government's current roadmap out of lockdown, we are:
Reopening our outdoor sports facilities from Monday 29 March (according to sport-specific National Governing Body guidelines)
Reopening our Falmer Sports Complex fitness rooms from Monday 12 April
Running outdoor group exercise classes at the Falmer Sports Complex from Tuesday 13 April.
Remember, you now need to book in advance for all activities, and our equipment and facilities will be arranged in a way to ensure social distancing, with enhanced cleaning taking place regularly.
Sports-specific guidance from National Governing Bodies (NGBs) will affect how some of our facilities - such as our racket sports courts and pitches - will operate, and some NGBs are yet to confirm this information.
Indoor group exercise classes are not permitted until mid-May under the current government guidelines, but we will have regular instructor-led group sessions on our Outdoor Fitness Area from Tuesday 13 April.
You can help look after yourself and others by familiarising yourself with our COVID-secure procedures and by following the advice of our staff team, who will be happy to help and are looking forward to welcoming you back.
New summer term membership offers - including free Bronze memberships for all students
Students can now get one or two-month Gold memberships, which we are offering throughout the summer term. You can buy your membership via our online shop, or in person at our reception desk.
We're also offering all students our Bronze membership free of charge for the rest of the 2020/21 year! This means that you will automatically qualify for our discounted pay-and-play rates for fitness room visits, classes and racket sports.
If you're not sure how often you'll be on campus over the next few months, but still want to get a great value fitness session when you're able to, then this is a perfect option. You can sign-up for your free Bronze membership via the online shop.
Our online programme is continuing too
Our Stay Home With US programme of online classes, blogs and downloadable home workouts is continuing too, so it's easy to keep moving and stay connected - even if you're not back on campus yet.
All you need to take part in our live online classes is a University of Sussex, BSMS or IDS email. You can view the latest timetable on our webpages.
If you have any questions or concerns, you can always get in touch with us by email.
Thanks for your patience and ongoing support. When you're ready to return, we can't wait to see you.
Further information: http://www.sussex.ac.uk/sport/