Friday Spotlight: Isabella's story
By: Terry Cooper
Last updated: Friday, 3 March 2023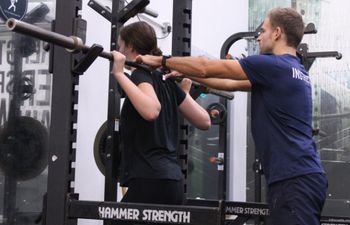 PhD student and researcher Isabella Campbell Harry shares her experience with sport and fitness at the University of Sussex over the last 7 years.
"I first started at Sussex in September 2016 as an undergraduate and then followed on to a PhD in 2019. Sussexsport has been a part of that journey since day one. I immediately fell in love with the community here and for the first time in my life, it felt like I found my tribe.
"I dabbled in everything, from badminton and squash coaching and Active US to almost all the group training classes."
She added: "I've gone from someone who had never stood foot or felt comfortable in a gym to realising I have every right to be there as someone who has been weightlifting for years. I owe that to the group training classes. They were a safe space where I could learn, make mistakes, and grow in my confidence and fitness.
"In the almost 7 years since I started at Sussex, I have run marathons, done triathlons, comfortably thrown big weights around in the gym, represented the university in badminton, and gained true community and friendship.
"My 17-year-old self could have never dreamed to be the empowered person I am today, and I owe a big chunk of that to the how welcomed I felt day one of entering those gym doors. It changed my life."