Try January
By: Terry Cooper
Last updated: Friday, 6 January 2023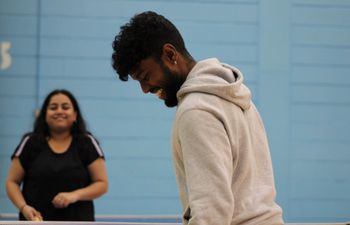 Over the coming month Sussexsport will be running Try January, a scheme that looks to get as many students and staff active as possible and trying new things.
The last few years have been challenging but getting active and getting some outdoor activity can help us promote an overall positive wellbeing. We hope that you can join us in our positive challenge to get active, try a new activity and make some time for ourselves.
Try January is designed to support University of Sussex staff and students to be active, through challenges and provide opportunities to try new activities or be more mindful. The month consists of a timetable of activities, access to facilities and daily challenges.
To support students and staff in getting active during this time – we are offering a free 2-week membership trial to those who have never taken out a Sussexsport membership before.
To take out a trial membership, simply visit the Sport Centre or the Falmer Sports Complex from the 6th of January to receive your 'Try January' membership and download the 30-Day Challenge. The deadline for activating this membership is 10pm on the 10th of January. With this membership you can visit both the fitness rooms on campus, attend a group fitness class and book racket sport courts. To sign up, please visit one of our two sites in-person and not online.
With access to our facilities can join new colleagues or colleagues you haven't seen for a while for a game of tennis, badminton, or table tennis. Attend a group fitness class or visit the fitness room. You can even contact us and look to put on a session for your team, maybe a relaxing yoga session, an indoor cycle class or a de-stress yoga and breathing session. Let us know what you would like to do, and we can look to make it happen!
There are also a number of taster sessions for a variety of activities including fencing, kung fu, squash, tai chi and volleyball. For more information on these one-off events and the scheme follow the link to our dedicated webpage or follow us on our social media platforms @sussexsport.

Try January : Active Staff : ... : Sussex sport : University of Sussex