Sussexsport receives outstanding contribution award from higher education governing body for university sport
It was the British Universities and Colleges Sport (BUCS) conference and awards dinner last week (9-11 July 2019) and the University of Sussex's Sussexsport was one of only six university sport departments to be honoured with an award for outstanding contribution towards encouraging physical activity in the sector.
In perfect timing with this award, Sussexsport's vision is shortly to be updated with a new strategy which puts physical activity squarely at the core of their practice. Whether this is elite level, club or participation sport, the priority is to help students find the right balance for them, so that they can get fit, active and healthy throughout their time at university, and beyond.
BUCS are running this new initiative with the following aims:
- To reward institutions who can demonstrate commitment and provision towards tackling inactivity
- To create a good practice report for sharing across the sector
- To develop a toolkit for institutions to use to increase physical activity delivery
- To drive of a culture of collaborative working at institutional and national level
- To show evidence of the impact of the HE sector across the wider physical activity landscape
- To increase the awareness the role of the HE sector has on promoting positive lifestyle behaviour.
- To have a recognised award that encompasses work from Physical Activity & health board, social & recreational sport steering group and the workforce steering group.
Other prestigious universities presented with the award included the University of Manchester and the University of East Anglia.
The BUCS award panel identified the key areas where Sussexsport excelled, particularly:
- Active US
Run by Sussexsport and the Students' Union, Active US provides low cost, student-led and commitment free activities during term time. This project is led by a group of student 'Activators.' These are second or third year students who are skilled in particular sports, and who want to help enable other students to take part in physical activity in a fun and social way. With the help of the participation coordinator (Marc Slowey) and Active US graduate intern, this project has added an additional 100,000 visits to Sussexsport in under five years and has gained significant followings on social media.
- Working in partnership with the Students' Union
Sussexsport's on-going partnership with the Students' Union, exemplified in the Active US project, saw the creation of a co-funded media and marketing coordinator to work across the Students' Union and Sussexsport teams. This role, which is only available to a Sussex graduate, runs on an annual basis bringing fresh life into the department at the start of the academic year. This year's graduate is Izzy Langstone who is already busy designing Active US timetables, leaflets and environmentally friendly give-a-ways for the start of term.
- Active Buddies
This grew from the Active US project, and helps to get more international students active thanks to BUCS Active Funding.
- US Girls Can
Inspired by the Sport England campaign This Girl Can, US Girls Can is the University of Sussex's unique voice for women's participation in all sports.
Again run by Active US, this project has bridged the gender participation gap by 8% this and saw the birth of the US Girls Can Leadership Academy which supports eight female Sussex students in becoming sport leaders, trainers and ambassadors for young women during their time at the University. The campaign's primary focus is on the social elements of participation sport, which studies have shown keep women active for longer.
- Trial It Week
This takes place in the first few weeks of term and gets a large number of students playing sport for the very first time.
- Reaching the wider University
Sussexsport works closely with the Sussex Psychology department and this year they supported five students with their research into attitudes towards physical activity. One research project looked at the gender difference in approaches to physical activity.
- Supporting staff research
This year two Sussexsport staff members completed research into the Gender Participation gap and their findings were used to support the case for improvements in facilities and services at Sussexsport.
This timely award from BUCS suggest Sussexsport may have already hit their target to increase physical activity on campus, but there is always more work to do. Sussexsport looks forward to enacting their new vision in the autumn term.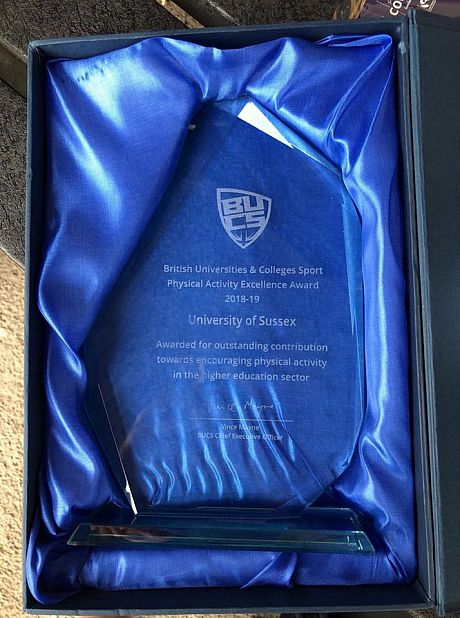 ---