Sussexsport and The Training Base serve up ace tennis coaching for Sussex students and staff
Sussexsport has launched a new joint tennis venture with The Training Base, a local coaching company based at the Falmer Sports Complex (FSC) on campus.
The new partnership offers University of Sussex students and staff access to the best tennis coaching in Sussex, at exclusive rates (50% off in June). View the current timetable.
The programme is headed up by professional coach Barry Fulcher – former Association of Tennis Professionals (ATP) ranked professional and current captain of Great Britain's men's 35 and over team. Barry and his team of coaches are all highly experienced former professional players and coaches, who have experience working with beginners all the way through to professionals.
The principle behind The Training Base is to offer high-quality, accessible training opportunities to all players, whether they train under the programme once a week or every day.
The programme offers a number of weekly adult clinics, open to all levels; comprehensive weekly programmes for aspiring junior and professional players; individual sessions; and specialist workshops, with plans afoot for a comprehensive schools partnership programme in September 2019. More details will be shared shortly.
Sessions take place on:
Mondays: 9:30–11am

Tuesdays: 6–7:30pm

Wednesdays: 9:30–11am and 12:30–2pm

Thursdays: 6:45–8:15am

Fridays: 9:30–11am

and Saturdays: 9:30am–12 noon and 1–3pm.
The Training Base has seen tennis players travel from all over the county and beyond to access these sessions, which will be available to Sussex students and staff on their doorstep.
A number of current Sussex students have already benefited from the academy programme, hitting with some of the country's up-and-coming junior players.
This June only, The Training Base is offering Sussex students and staff half price on clinics. To take advantage of this opportunity, pay online for the clinic and then just bring your student or staff card on the day and claim half the money back.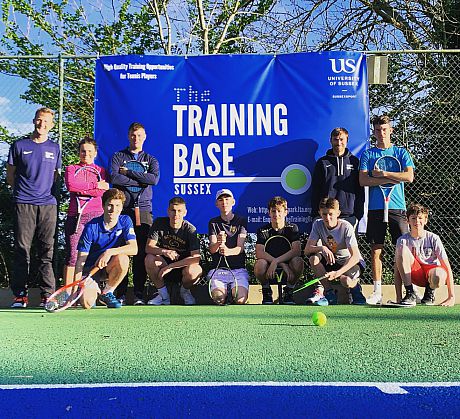 Barry Fulcher from The Training Base had this to say of the joint project:
"Having been working out of the Falmer Sports Complex for coming up to a year now, it's been fantastic to see the facility and The Training Base programme develop. We have one of the strongest team of coaches in the South East, and a growing team of international junior and pro players who train with us.
"The facility is perfect for visiting junior, college and pro players, and we continue to look for ways to open up the programme to students and staff to improve what is on offer.
"I'd love to see the University of Sussex student tennis programme develop as part of this, and improve the offering to students as they enjoy their time here on campus."
For more information on the team of coaches or how you can access the programme, please visit https://clubspark.lta.org.uk/TheTrainingBaseSussex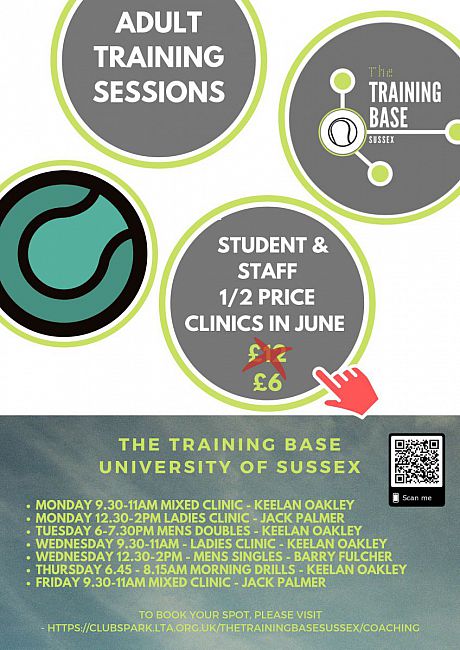 ---