Sussex undergraduate attends leadership masterclass and UEFA Champions League final screening with Santander
A University of Sussex undergraduate was selected to attend an exclusive leadership training event and a screening of the Champions League final with Santander Universities last weekend.
Third-year Chemistry student Jonah Pickering paid a visit to Tottenham Hotspur's new stadium for a leadership masterclass. The session was led by renowned sports psychologist Jeremy Snape, an ex-England and county cricketer who has combined his playing experience with a Masters degree to help both sporting and non-sporting organisations improve leadership and management performance.
Jonah was chosen for the initiative due to his involvement in Sussex's widening participation programme and his status as a first generation scholar. Following the event, he commented: "The new stadium was amazing and I found the leadership masterclass very interesting. The hospitality was brilliant right the way through and I especially enjoyed meeting a range of students from other universities."
After the masterclass, Jonah had the opportunity to go on a stadium tour, followed by a screening of one of the biggest games of the season. Students on the trip joined over 62,000 Spurs fans in the stands to watch the UEFA Champions League final live on giant screens.
Matt Hutnell, Director of Santander Universities UK, said:
"We're thrilled to have offered students from all our partner universities this fantastic opportunity to attend a series of leadership activities, whilst highlighting the positive and lasting impact that sports such as football have on people and communities around the world.
"We are committed to supporting higher education and hope the sessions provided an invaluable insight and the skills needed for students to build upon as they develop their careers."
Santander Universities was introduced in the UK in 2007 and the bank now has partnerships with more than 80 universities, providing over £10m of funding in 2018 to support university staff and students.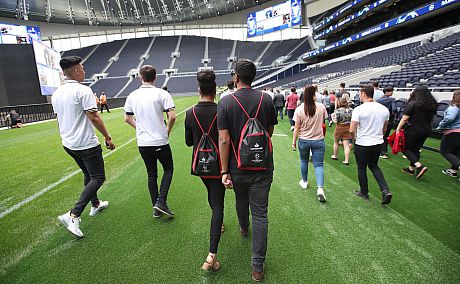 ---