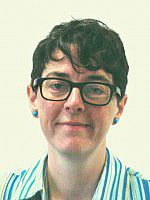 Dr
Nina Held
Biography
Nina joined the University of Sussex as a post-doctoral research fellow and teaching fellow in 2016. Together with two other research fellows, Dr Carmelo Danisi and Dr Moira Dustin, she is working on the ERC-funded project SOGICA - Sexual Orientation and Gender Identity Claims of Asylum (2016-2020), led by Prof Nuno Ferreira. Nina also teaches on the Law, Politics and Sociology Foundation course and supports students as an Academic Advisor.
Nina obtained her PhD in Women's Studies at the Centre for Gender and Women's Studies at Lancaster University. Her study Racialised Lesbian Spaces (2011) explored the intersections of sexuality, 'race' and space in the context of night-time leisure spaces for women and was based on ethnographic research conducted in Manchester's Gay Village.
Before joining Sussex, Nina worked in different voluntary organisations. She worked as the Development Worker at Trafford Rape Crisis for two years and as the Centre Co-ordinator at Freedom from Torture North West for five years. For seven years, she was the chair and a volunteer for the Lesbian Immigration Support Group in Manchester. In 2016, she also worked as Associate Lecturer at the University of Central Lancashire (UCLAN), where she taught undergraduate students on several courses.
Nina is an intersectional feminist – she is keen to explore how we can think of gender as always being intertwined with other social categories such as 'race', sexuality, ability, class, religion and 'refugeeness'.
Role
Research and Teaching Fellow
Community and Business
Nina has established many links with community organisations through her previous roles at Trafford Rape Crisis, where she developed services for survivors of sexual violence, and Freedom from Torture NW, where she worked with survivors of torture and co-ordinated the NW Centre. She has supported, and campaigned for, many bisexual and lesbian asylum seekers over the years through her work with the Lesbian Immigration Support Group (LISG) in Manchester.