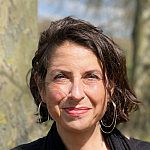 Dr
Moira Dustin
Biography
Moira is a Research Fellow in the Department of Law in the School of Law, Politics and Sociology. She joined the University of Sussex as a post-doctoral research fellow in 2016. Together with two other research fellows, Dr Carmelo Danisi and Dr Nina Held she is working on the European Research Council project SOGICA - Sexual Orientation and Gender Identity Claims of Asylum: A European human rights challenge (2016-2020). The project, led by Prof Nuno Ferreira, will generate the first ever theoretically and empirically-grounded comparative and comprehensive picture of the status and legal experiences of asylum-seekers across Europe claiming international protection on the basis of their sexual orientation or gender identity (SOGI), and determine how the European asylum systems can treat more fairly asylum claims based on the claimant's SOGI.
She has a PhD in Gender Studies from the London School of Economics where she is a Visiting Fellow at the Centre for Analysis of Social Exclusion (CASE).
Before joining the University of Sussex, Moira was Director of Research and Communications at the Equality and Diversity Forum, a network of equality and human rights organisations, where she coordinated the Equality and Diversity Research Network.
Moira has also worked at the Refugee Council, providing advice and information and developing national services for refugees and asylum-seekers. She has worked as a freelance sub-editor on the Guardian and Independent newspapers and was the Information Worker for the Carnegie Inquiry into the Third Age.