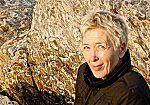 Prof
Sally-Jane Norman
Biography
After an MA at the University of Canterbury, Aotearoa/ New Zealand, I received a Doctorat de 3ème cycle (1980) and Doctorat d'état (1990) from the Institut d'études théâtrales, Université de Paris III. Focussed on performing arts, my research has involved collaboration with organisations including the Performing Arts Laboratory of the Centre national de la recherche scientifique, Unesco, and the French Ministry of Culture, and navigation between theory and practice (cf. sallyjanenorman.net). In 1993 I directed the Louvre New Images and Museology conference, and have led performing arts initiatives for organisations including the International Institute of Puppetry (Charleville-Mézières), Zentrum für Kunst und Medientechnologie (Karlsruhe) as European Framework Research Associate, and Studio for Electro-Instrumental Music (Amsterdam) where I was Artistic Co-Director from 1998-2000. As Director General of the Ecole européenne supérieure de l'image (Angoulême/ Poitiers), I piloted the school's transformation and multi-million euro funding scheme, launching a practice-based Digital Arts PhD programme. I then moved to Newcastle University to found and direct Culture Lab which opened in 2006 as a SRIF-funded interdisciplinary research facility, and was awarded £12M as a Digital Economy hub in 2009. In January 2010 I came to Sussex to found the Attenborough Centre for the Creative Arts, an interdisciplinary resource underpinned by a major refurbishment project completed in spring 2016. Since January 2015 I have worked as co-founder and co-director of the Sussex Humanities Lab, under Caroline Bassett, where I lead Digital Technologies/ Digital Performance research.
International links include roles as Honorary Professor with the National Academy of Chinese Theatre Arts in Beijing, Visiting Professor with the University of Peking, Visiting Fellow in the University of Porto's M4M - Music for Media - network, and co-founder and regular jury member for the Vida Art and Artificial Life Competition launched in 1999 by Fundación Telefónica in Madrid. I am also member of the Scientific and Artistic Advisory Board of School of Arts, Design and Architecture for Aalto University in Finland.
As well as regularly reviewing UK Research Council grant applications, I ensure expert/ reviewer roles for bodies including the European Research Council, Agence Nationale de la Recherche (France), Canadian Social Sciences and Humanities Research Council, Swiss National Science Foundation, and Programm zur Entwicklung und Erschliessung der Künste in Austria. Advisory missions have also involved the Swedish Strategic Research Foundation, Portuguese Foundation of Science & Technology, Fonds québécois de recherche sur la société et la culture, and French Conseil de Recherche.
Role
Professor of Performance Technologies
Sussex Humanities Lab Co-Director. Leader of Digital Technologies/ Digital Performance Strand http://www.sussex.ac.uk/shl
Community and Business
Trustee engagements to date have included roles with the AV Festival (Newcastle-Gateshead), The Public (West Bromwich), Sonic Acts International Advisory Board (Amsterdam), Mute Advisory Board (http://www.metamute.org), and DanceDigital (Essex). I undertake lobbying and policy interventions at numerous national and international levels.