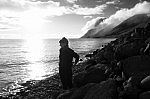 Ms
Rebecca Ashley
Role
I am a PhD candidate in the Department of Anthropology. My research explores industrialised midwifery practice, risk management and audit technologies in post-crisis Iceland. I am interested in the emergence of bureaucratic forms of risk governance, the everyday politics of birth work, and how midwives negotiate instability and crisis.
I completed a BA in Anthropology at the University of Sussex (First Class Honors, 2005-8), and an MA in Anthropological Research Methods at SOAS, University of London (Merit, 2009-10). I am a qualified midwife, and hold a BSc in Midwifery Studies from King's College London (First Class Honors, 2011-14).
I am a graduate associate at the Centre for Cultures of Reproduction, Technologies and Health (CORTH) at Sussex. I am a member of the Association of Radical Midwives, and sit on the advisory board of the Vagina Museum.
I am supervised by Professor Maya Unnithan and Dr Rebecca Prentice.
My doctoral research is funded by a +3 ESRC/Sussex DTC studentship.
Activities
Conference and workshop presentations:
'A short history of radical midwifery.' Róttæki Sumarháskólinn/Radical Summer University (Reykjavík, August 2017).
'Protocols for place of birth: evidence-based guidance.' Risk and power in maternal health seminar (UCL Anthropology Department, February 2015).
'On being critical at the bottom of the pyramid.' Shaping our science: medical anthropology, interdisciplinarity and public space (EASA Medical Anthropology Young Scholars, University of Oxford, July 2010).
Publications:
NJF Nordic Midwifery Conference 2016: a report for CORTH, University of Sussex.