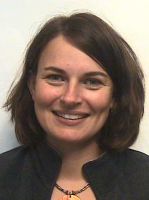 Dr
Rebecca Prentice
Biography
Rebecca Prentice is a Senior Lecturer in Anthropology. She holds a BA in Anthropology from Cornell University, an MA in the Anthropology of Development and Social Transformation from the University of Sussex, and a DPhil in Social Anthropology from the University of Sussex. In 2010 she held an ESRC Postdoctoral Fellowship at Goldsmiths, University of London.
Rebecca's book, Thiefing a Chance: Factory Work, Illicit Labor, and Neoliberal Subjectivities in Trinidad, won the Society for the Anthropology of Work Book Prize. She is also recipient of the Royal Anthropological Institute's Sutasoma Award for the potential of her research to make an outstanding contribution to anthropology.
Rebecca blogs at Culture & Capitalism.