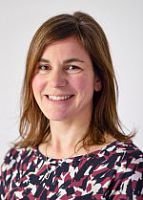 Prof
Claire Annesley
Post:
Professor of Politics (Politics, Sussex European Institute)
Other posts:
Deputy Pro-Vice-Chancellor (Equalities and Diversity) (Vice-Chancellor's Office)
Head of Politics (Politics)
Location:
FREEMAN CENTRE F08
Email:
claire.annesley@sussex.ac.uk

Telephone numbers
Internal:
2933
UK:
01273 872933
International:
+44 1273 872933

Research expertise:
download vCarddownload vCard to your mobile
Biography
Claire joined the Department of Politics in March 2015 and was appointed Deputy Pro-Vice Chancellor, Equalities and Diversity in November 2016.
Her research on gender, politics and policy was awarded the 2011 Richard Rose Prize by the Political Studies Association, the 2011 Carrie Chapman Catt Prize by Iowa State University and the 2012 Public Policy Section Prize by the American Political Science Association.
Claire is currently writing a book with Karen Beckwith (Case Western Reserve) and Susan Franceschet (Calgary) on Cabinets, Ministers and Gender which was awarded funding for a Johan Skytte manuscript workshop at the University of Uppsala. She was co-investigator for the ESRC seminar series Feminising Politics.
Before coming to Sussex, Claire was based at the University of Manchester (2000-15) where she was Assistant Dean for Research in the Faculty of Humanities and Director of Research in the School of Social Sciences.
Claire has a BA in German and Politics from the University of Newcastle upon Tyne (1995) and a PhD from the University of Sheffield (2001). She has been a visiting scholar at the Eberhard Karls Universität Tübingen (1993-4), the Wissenschaftszentrum Berlin für Sozialforschung (WZB) (2002) and the Georg-August-Universität Göttingen (2005-06).
Role
Deputy Pro-Vice Chancellor, Equalities and Diversity
Head of Politics
Community and Business
Claire is on the Management Committee of the UK Women's Budget Group and contributes to their analysis of the impact of economic policy and changes and tax and benefits on gender equality.
She has contributed to media discussion on the impact of austerity on women, for example on BBC Radio Four's Woman's Hour.