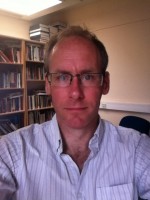 Prof
Jan Selby
Biography
Jan's research focuses principally on political ecology and environmental security, but also addresses issues of conflict, peace-building and development; International Relations theory; and the Israeli-Palestinian conflict.
On political ecology and environmental security, his work focuses on water, climate and energy issues and their intersection. He is author of a 2003 monograph, Water, Power and Politics in the Middle East, and various articles on Israeli-Palestinian and Middle Eastern water politics including an analysis of Israeli-Palestinian water negotiation files which documents Palestinian and donor complicity in water infrastructure-building for Israeli settlements. He has written widely on the claimed links between climate change and conflict, including in relation to Cyprus and Israel-Palestine, Sudan and Syria (also here). Recent work has included articles on US climate policy under Trump, and on the impacts of 'non-energy' policies on energy demand.
On conflict, peace-building and development, Jan's work has involved case study and comparative work, plus theoretically informed analyses of contemporary conflict, security and peacemaking practices. Recent publications in this area include a volume on militarism and International Relations (co-edited with Anna Stavrianakis); a critique of 'the myth of liberal peace-building' within contemporary peace-building research; a special issue of IDS Bulletin on conflict-development linkages in the Middle East (co-edited with Mariz Tadros); and work for UNICEF on education, conflict and peace-building in South Sudan.
While Jan has conducted field research in a number of countries, his main area focus is the Israeli-Palestinian conflict. This is reflected in his work on both peace processes and environmental security.
Beyond these main areas of research, Jan maintains a strong interest in International Relations theory. He has published on global governance (the focus of a 2003 co-edited volume); on the use and misuse of the work of Michel Foucault in IR; on the work of Edward Said; and most recently in a co-edited volume What's the Point of International Relations? (with Synne Dyvik and Rorden Wilkinson).
Jan studied at the universities of Durham and Lancaster, and received his PhD in Sociology from Lancaster in 2000. He subsequently taught in the Department of Politics and International Relations at Lancaster, and the Department of International Politics, Aberystwyth, before joining Sussex in 2005. He was Head of Department at Sussex from 2007-2009, and is currently the Department's Research Director.
Jan has supervised around 20 PhD projects, and is interested in taking on new projects on environmental and energy security, in particular. Current PhD supervision:
Fazilda Nabeel (working on groundwater governance in Pakistan)
Wassim Naboulsi (working on the role of the rural-urban divide in the Syria conflict)
Bontle Masilo (working on the Barsawa in Botswana)
Val Biggs (working on Bedouin communiites in West Bank Area C)
Role
Professor of International Relations