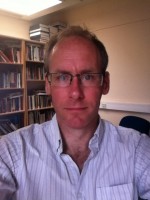 Prof
Jan Selby
Post:
Professor of International Relations (International Relations, International Development)
Location:
ARTS B B381
Email:
J.Selby@sussex.ac.uk

Telephone numbers
Internal:
6694 or 8892
UK:
01273 876694 or 01273 678892
International:
+44 1273 876694 or +44 1273 678892

Research expertise:
download vCarddownload vCard to your mobile
Biography
Jan Selby is Professor of International Relations, and Director of the Sussex Centre for Conflict and Security Research (SCSR). His research focuses on peace processes; environmental security; the Israeli-Palestinian conflict; and International Relations theory.
On peace processes, Jan's work explores contemporary peace negotiations, agreements and post-conflict peace-building within the context of global social, economic and geopolitical transformations. This has involved case study and comparative work on for instance the Israeli-Palestinian, Indo-Pakistani, Cambodian, Cypriot and Sudanese peace processes, plus theoretically informed analyses of contemporary peacemaking practices. An early stage of this research was supported by the ESRC, and currently involves work on a UNICEF-funded project on education and peace-building in Kenya and South Sudan; and the convening of a Higher Education Innovation Fund network on Rising Powers and Peace Processes. Jan's most recent article in this area critiques 'the myth of liberal peace-building' within contemporary peace-building research.
On environmental security, Jan's research focuses especially on international water, climate and energy politics. Jan is author of a 2003 monograph, Water, Power and Politics in the Middle East, and numerous journal articles on Israeli-Palestinian and Middle Eastern water politics, including a groundbreaking analysis of Israeli-Palestinian water negotiation files, which identified a consistent pattern of Palestinian and donor complicity with water infrastructure-building for Israeli settlements. More recently Jan's environmental security research has focused on water-climate-conflict linkages, especially through the EU Framework 7 project Climate Change, Hydro-Conflicts and Human Security (CLICO). Together with former colleague Clemens Hoffmann (now Bilkent University), this has involved analyses of water-climate-conflict linkages in Cyprus and Israel-Palestine, as well as Sudan; and has led to a book forthcoming with IB Tauris. Jan and Clemens have also recently co-edited a special issue of Geopolitics critiquing contemporary orthodoxies on climate change, conflict and security. Jan has served widely as a consultant and advisor on water policy issues. He is also a member of the EPSRC's DEMAND Centre, in which capacity he is undertaking research on the construction of energy demand within the UK military and higher education sectors.
While Jan has conducted field research in a number of countries, his main area focus is the Israeli-Palestinian conflict. This is reflected in his work on both peace processes and environmental security.
Beyond these main areas of research, Jan maintains a strong interest in International Relations theory. He has published on global governance (the focus of a 2003 co-edited volume); on the use and misuse of the work of Michel Foucault in IR; on the work of Edward Said; and on militarism and International Relations (the subject of a 2012 volume co-edited with Sussex colleague Anna Stavrianakis).
Jan currently supervises 5 PhD students, and is interested in taking on new projects on peace processes; environmental security; and the Israeli-Palestinian conflict.
Jan studied at the universities of Durham and Lancaster, and received his PhD in Sociology from Lancaster in 2000. He subsequently taught in the Department of Politics and International Relations at Lancaster, and the Department of International Politics, Aberystwyth, before joining Sussex in 2005. He was Head of Department at Sussex from 2007-2009, and is currently the Department's Research Director.