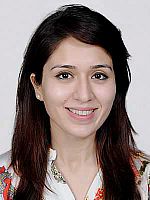 Ms
Fazilda Nabeel
Biography
Ms. Fazilda Nabeel is a Doctoral Researcher at the University of Sussex (UK) and currently working with the Centre for Water Informatics and Technology (WIT) as a Visiting Researcher for her fieldwork year. Fazilda has had 6 years of experience working with the South Asian Human Development Reports by the Mahbub ul Haq Centre for Human Development, as well as the recent National Human Development Report (2016) by the UNDP. Fazilda's research on transboundary water issues was published in the Mahbub ul Haq Centre's Human Development Report (2013) titled 'Water for Human Development' She has also conducted background research for the last Track II Water-Dialogue held by the Atlantic Council USA (South Asia Centre) in Lahore in September 2012. Fazilda was also selected as a Lead Pakistan Fellow on Transboundary Water Resources South Asia for 2014-2015. She also underwent training at the Water Diplomacy Workshop, Harvard Law School, where she presented a case on the Indus Basin and contributed to the Aquapaedia Case Database maintained by the Water Diplomacy Network of MIT, Harvard and Tufts.
Fazilda's doctoral research, funded by Economic and Social Research Council (UK), analyses the nature and underlying causes of problem of groundwater (non) governance in the Indus Basin of Pakistan, particularly the marginalisation of groundwater governance in comparison to the technical, legal, institutional development of surface water. Her research explores the historical contingency and path dependence as one possible explaination of groundwater apathy in the Indus Basin of Pakistan by tracing the contemporary problem groundwater non-governance to its colonial roots. She is also interested in how state and non-state actors, have shaped the development and management of groundwater in the region. Her fieldwork on local governance of municipal, industrial and agricultural water use in the Sheikhupura district of Punjab explores the competing uses of water in one of the critically exploited areas with high industrial and agricultural water footprints in the Rechna Doab, as well as the effect of deteriorating groundwater quality and diminishing quantity on livelihoods.
Qualifications
Professional Experience
Centre for Water Informatics and Technology (2016-2017): Visiting Doctoral Researcher engaged in organizing and conducting capacity building workshops and conferences in water science, policy and governance. Key research areas include: groundwater use and governance at national, provincial and local levels; archival research on environmental history of water in the Indus Basin; industrial use and pollution of freshwater; social vulnerability analysis of small rice farming households in Sheikhupura district; gender and water scarcity.
Institute of Development Studies, University of Sussex (2016): Consultant responsible for research on policies and programs for and mapping of key stakeholders in Mangrove afforestation, reforestation and restoration in Kutch, Gujarat, India.(STEPS Centre project)
Lead Pakistan Fellow on Transboundary Water Resources (2014- 2015):Engagement with Water Experts from all over Pakistan over four national training sessions. Working Paper for Lead Pakistan on 'Groundwater Challenges, Opportunities and Governance in Pakistan's Indus Basin'.
Harvard Law School (2015).Engagement with Water Diplomacy Framework in seminars and workshops and Case Paper presentation on 'Challenges to the Indus Regime'
Mahbub-ul-Haq Human Development Center (Nov 2011 to July 2015):Consultant and Senior Research Analyst, responsible for background research, drafting of chapters, and editing of South Asian Human Development Reports.
Formal Christian College (August 2014 to August 2015): Assistant Professor at Economics Department. Courses Taught: Intermediate Microeconomics, Development Theory and Policy, Issues in Pakistan Economy
International Growth Center (IGC) (April 2011 to December 2011): Research Asssociate with Dr. Ali Cheema ,Dr. Adnan Q. Khan and Dr. Eliana La Farera working on the political economy of distribution of flood rehabilitation and relief in 11 districts of Punjab, Pakistan.
Lahore School of Economics (LSE) (Sept 2009 to August 2014):Teaching Fellow in the Economics Department and Social Science Department. Courses Taught: Economics and Financial Analysis of Projects, International Political Economy, Public Economics, Introduction to Microeconomics, International Relations, Introduction to Pakistan Economy.
Education
University of Sussex (2015-2018) Ph.D Candidate International Development
Brown University USA (2008-2009) Masters in Public Policy
Lahore University of Management Sciences (2007-2008) MSc. Economics
Lahore University of Management Sciences (2002-2006) BSc.Economics
Honours and Awards
Economic and Social Research Council Grant 2015-2018 for Research on 'Political Ecology of Groundwater (Non)
Governance in the Indus Basin of Pakistan'
Lead Pakistan Fellow 2014-2015, Leadership Development Program on Transboundary Water Resources South Asia
Sheridan Center for Teaching 2008-2009, Teaching Certificate Award, Brown University
Fulbright Scholar 2008-2009
Gold Medalist, Taubman Center for Public Policy, Brown University 2008-2009 (CGPA:4.0)
Activities
Articles: http://www.independent.co.uk/environment/how-india-and-pakistan-are-competing-over-the-mighty-indus-river-a7769506.html