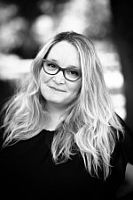 Ms
Mary Krell
Post:
Senior Lecturer in Media & Film Studies (Media and Film)
Other posts:
Director of Teaching and Learning (School of Media, Film and Music)
Senior Lecturer in Media and Film Studies (Centre for Photography and Visual Culture)
Location:
SILVERSTONE SB 332
Email:
M.A.Krell@sussex.ac.uk
Personal homepage:
My personal webpage

Telephone numbers
Internal:
8954
UK:
01273 678954
International:
+44 1273 678954

Research expertise:
download vCarddownload vCard to your mobile
Biography
Mary is a digital artist whose work spans performance, interactivity and narrative. Her work has been shown on multiple continents and she regularly collaborates with artists and thinkers from around the world.
Originally from the USA, she has been based in the UK at the University of Sussex since 2002. Prior to coming to Sussex, she was the Head of the Design Department at Cornish College of the Arts in Seattle. Before entering higher education, Mary worked as a digital designer at Seattle's Saltmine Creative during the initial dot.com boom of the 1990s. While at Saltmine she worked on projects for Wizards of the Coast, Microsoft and the Pokemon franchise.
Mary has also been an associate member of Forced Entertainment as a digital author. With them, she created a number of interactive works that were exhibited around the world at venues including the ZKM (in Karlsruhe, Germany), the ICA (in London) and The Art Institute of Chicago. Nightwalks, an interactive virtual reality piece created in collaboration with the company won the Transmediale in 2000. She also performed in the inaugural tour of The Voices.
Role
Mary is the Director of Teaching & Learning for the school and a Senior Lecturer in Digital Media Practice & Theory. She was also Subject Head for Media Practice (Head of Department) for nearly a decade and has convened the BA Media Practice & Theory and the MA in Digital Media. She has been an elected member to the university senate and was recently the Exams Chair for the School.
Community and Business
Mary is the Director of a community group which received the Queen's Award for Voluntary Service in 2017 and the Epic Award for England from Voluntary Arts in 2018. She also regularly works with artists and industry around the UK and in the USA. She was a trustee at Fabrica Gallery for many years. She has advised large and small businesses and governmental agencies working with digital media.
She is committed to fostering connections betwen community groups, businesses and educators. Mary is specifically interested in community engagement in relation to participatory arts and education.