Welcome to the Cox Research Group

Professor Hazel Cox
Professor of Theoretical & Computational Chemistry

h.cox@sussex.ac.uk
I joined the University of Sussex as a post-doc (PDRA) to work in the Chemistry department with Prof. John Murrell FRS and Prof. Roy Johnston on the derivation and application of potential energy functions for solids and surfaces. After the award of two research fellowships (Royal Society Dorothy Hodgkin Research Fellowship 1996-1999 and EPSRC University Research Fellowship 1999 - 2004) i took up a position as lecturer in Chemistry at Sussex and in 2005 was appointed to Senior Lecturer. Since then i've been awarded two teaching awards (an Endsleigh-UCU 'Life Changers' Award in 2007 and a Sussex Teaching Award In 2012).

Dr Adam Baskerville
A.Baskerville@sussex.ac.uk

I completed my masters degree at the University of Kent in 2014 with a final year research project titled:
"Magnetic monopoles in spin ice"
.
I completed my PhD in June 2018 at the University of Sussex with a thesis titled: "The quantum chemical physics of few-particle atoms and molecules". My main interests are theoretical, quantum and computational physics and my research is based around electron correlation with applications to Density Functional Theory (DFT)
.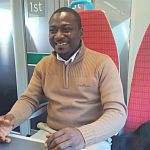 Msugh TargemaM.Targema@sussex.ac.uk

I obtained a B.Sc. (Hons.) in Chemistry from Benue State University, Makurdi in 2008 before studying for a M.Sc. in Physical Chemistry (2011–2012) under the supervision of Dr Nelson O. Obi-Egbedi at the University of Ibadan, Ibadan. I joined the group of Dr Hazel Cox, University of Sussex in September 2015 to study for a PhD in Chemistry under the sponsorship of the Tertiary Education Trust Fund (TETFund) of Nigeria. I am investigating the structure, reactivity and spectroscopy of inorganic complexes using state-of-art quantum/computational chemistry methods.