Whose Anthropocene reading group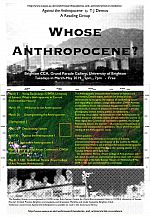 Against the Anthropocene by T J Demos
A Reading Group
Brighton CCA, Grand Parade Gallery, University of Brighton
Tuesdays in March-May 2019 – 5pm-7pm - Free
More details:
Whose Anthropocene? Poster [PDF 6.68MB]
Other Events
Artists Environmental Justice Now
Mayday Environmental Artists Activists Conference
Wednesday 1 May 2019 10am - 6pm
The Gardener Tower
Attenborough Centre for the Creative Arts, University of Sussex
Anthropocene: How does the concept relate to climate change and to environmental history? How do artists engage with climate justice? What does art contribute to environmental studies? Which scholarly resources of environmental history, can artists engage with?
Contemporary art practitioners invited to this event represent latest interpretations of [Socially] Engaged Art Practice, and realise their work in the form of Site Specific [Art] Placement. This practice involves non-artists and non-art, and does not always end up with the conventional image or art object in an art exhibition as an outcome.
This conjuncture of Anthropocene and nexus of environmental-art-activism, will be explored in a series of presentations, performances, spoken word delivery, display and a small group workshop in a day at the Gardener Tower, organised by the CWEH-activists and academia forum, University of Sussex.
View the poster: Artists Environmental Justice Now [PDF 386.03KB]
Mining Affected Communities from Odisha to Zambia
Politicised Pollution, Land Grab, Mine Workers in Disputes
Friday 1 March 14:00 until 17:00
Brighton and Sussex Medical School, Room 108/109
Speaker: Samarendra Das and Suravee Nayak

The impact of coal and aluminium mining is studied in two regions of the world by two academic activists, Eastern India and Zambia. The discussion will draw comparisons between these two resource-rich regions and examines the idea of the resource curse. Based on recent fieldwork and successful campaiging both by communities and activists the seminar will outline methods of activist practice and steps to challenge carbon emissions in an increasingly fragile world.
View the poster: Mining Affected Communities from Odisha to Zambia [PDF 1.01MB]
Why Artist-in-Residence?
Could visual arts expand our understanding of Environmental History?
Zuky Serper, CWEH artist in residence, convenes the Activists and Academia Forum at the Centre for World Environmental History (CWEH) University of Sussex.
Using socially engaged contemporary art practice, Serper works with the CWEH on stories of Ecological Justice struggles. Serper brings together academic scholars and activists, artists, students and campaign organisations alike, to create a working international network that compares and presents studies on the extractive industries, historical and current, in response to the social disequilibrium they produce.
Serper says: " For an artist-activist, I find academia a space open to engage with, interested in bringing together diverse agents of knowledge production, students and experts. Rich visual representations and material documentation of impacts of the extractive industries on people and environments help us develop methodologies for defending life." Serper uses visuals to produce artworks for banners, publicity of Forum gatherings, and newsletters, and sees his work integrated into the activist agenda of the Centre for World Environmental History (CWEH), as set by its inspirational founder, environmental historian Richard Grove.
The Activists and Academia Forum-CWEH first gathered in 2013. An international network gatherings, was awarded a British Academy funding in September 2014 and was held in the University of Sussex.
Other contributions by Serper included: The Yasuni ITT Park Initiative in Amazonian Ecuador, a workshop organised in Paris during COP21 in December 2015, chaired by Professor Carlos Larea, with Gloria Ushino, Yasuni indigenous activist, and Rights of Nature advocate Natalie Greene, together with Yasunidos activists.
Bauxite Battles – a paper by Felix Padel, Naomi Salaman and Zuky Serper – for the 2014 Colloque final de l'ANR Créalu Paris, appeared in print (Presses Universitaires Francois-Rabelais de Tours, 2017).
In October 2018 mining company Vedanta, monitored by the Forum, was de-listed from the London Stock Exchange as a result of sustained campaign by Foil Vedanta. A detailed report - Vedanta's Billions- Regulatory failure, environment and human rights - by Samarendra Das, Miriam Rose and Krishnendu Tublu Mukherjee, which copies were handed to FCA, was launched earlier in the Activists and Academia Forum-CWEH, University of Sussex.