Conceptualising Environmental Conflict through Multidisciplinary Lenses
Understanding Environmental Crisis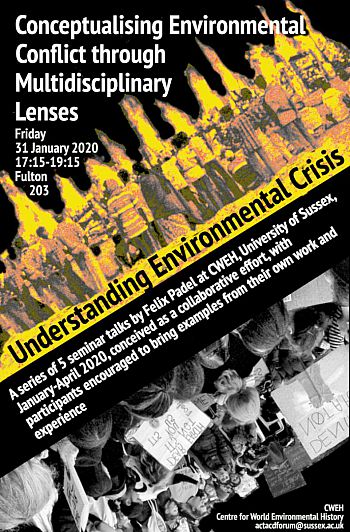 A series of 5 seminar talks by Felix Padel at CWEH, University of Sussex, January-April 2020, conceived as a collaborative effort, with participants encouraged to bring examples from their own work and experience.
As academics, as well as ordinary citizens and perhaps as activists too, how can we enter a deeper awareness of what's happening and what to do about it? What economists, like most governments and corporations, conceive as 'resources', indigenous peoples and environmentalists see as sources of life. It's significant that indigenous peoples find themselves in the frontline: the 'war on terror' and the war on nature meet in the militarisation of resource conflicts over indigenous lands. The argument here is that the military-industrial complex drives the escalating war on nature – ecocide alongside genocide, exemplified in the Kalinganagar police firing of 2nd January 2006 to facilitate a Tata Steel factory (among hundreds of similar conflicts in India) or the Amazon fires and overriding of hard-won indigenous rights in Bolsenaro's Brazil. We all know numerous examples, and participants in these seminar talks are encouraged to bring examples from their own experience.
The first session will set the scene with recent events and debates, including mass species loss in the fires in Australia, Brazil and elsewhere, introducing the centrality of indigenous politics, and a way of conceptualising what is happening through the elements of earth, water, fire and air.
Details of all of the talks in this series:
Understanding Environmental Crisis [PDF 191.18KB]
---
Found this interesting? Share it on social media: