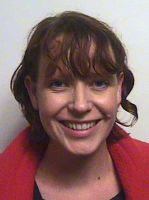 Miss
Katie Reid
Role
I am a Dphil Student in Colonial and Postcolonial Cultures in the School of English, sponsored by the AHRC.
Qualifications
MA, Critical Theory, University of Sussex, UK: 2008-9.
BA Hons, English Literature, University of Sussex, UK: 2005-8.
Activities
Co-founder, contributor and editor of the blog Africa in Words.
Member of the Sussex Africa Centre Postgraduate Steering Committee.
Co-convenor with Kate Haines (Sussex), two panels entitled 'The 'post-millennial context' and African writing in English'. African Studies Association UK biennial conference, September 6-8, 2012.
Part of the African Studies Association UK 2012 conference 'stream', 'New Articulations in Africa's Literatures and Cultures', organised by Steph Newell and Ranka Primorac.
Co-convenor with Steph Newell, African Popular Cultures Workshop, April 16, 2012.
Dr Chris Warnes, Faculty of English, St John's College, Cambridge: 'Reading the South African Romance: Allegories of Empowerment'.
Jesse Weaver Shipley, Assistant Professor of Anthropology and coordinator of Africana Studies at Haverford College, US: 'Race, Travel, and the Aesthetics of Exaggeration in African Popular Culture'.
With film screening and Q&A of Shipley's new film, a ficto-documentary entitled Is It Sweet: Tales of an African Superstar in New York (2012).
Exclusive session for Sussex students and staff with internationally acclaimed Director, Michael Raeburn: 'Talking about TRIOMF' (Winner Best South African Film at the Durban International Film Festival 2008).
Co-organiser School of English Colloquium, 2010-2011
Part of a small team of postgraduate students organising and chairing the School of English Colloquium, 2010-2011.
Co-organiser Picture this: postcards and letters beyond text, March 25-26, 2011.
Co-organiser of the interdisciplinary conference, exhibition and mixed-media Postcards Competition,alongside another Sussex DPhil student and lecturer at Nottingham Trent University, Bethan Stevens. The conference explored the epistolary and its various effects on narratives of all kinds, in fiction, visual art, social history, through both critical and creative practice. 'Picture this' had reciprocal links to Brighton Museum and Art Gallery, the Brighton Illustrators Group, and the publishers Myriad Editions and has received funding from the AHRC under their Beyond Text initiative, Roberts funding and further support from the School of English at Sussex.
Our web resource has further details for those interested in postcards and letters:
http://www.postcards-letters.org.uk/index.php/picturethis/pt
To see the top entries of our mixed-media Postcards Competition - a varied bag that features poems, short stories, original artwork, photos and humorous collages - go to Myriad Editions' website.
June 2010
DPhil advice panel - Workshop for Junior Research Associates, University of Sussex
Research Papers
''Dead Letters' and post-apartheid South Africa: Ivan Vladislavic's Double Negative'. Yours Sincerely: The Rise and Fall of the Letter – Conference, Events and Exhibition, Portico Library, Manchester (June, 2013).

'Interminable post-apartheid? Ivan Vladislavic's 'collaborative' South African voice'. Writing South Africa Now, Faculty of English, University of Cambridge (July, 2013).
Roundtable: 'Pulp Fiction'. Franschhoek Literary Festival, 2013. South Africa (May, 2013).
'Travelling the Literary Marketplace: Ivan Vladislavic's 'Joburg and What-What'. Postcolonial and Related Literatures Graduate Seminar, Faculty of English, University of Cambridge (November, 2012).
'Defining the 'post-' in the post-millennial context: Ivan Vladislavic and the South African literary marketplace.' African Studies Association UK Biennial Conference, Leeds (September, 2012).
''Worlds do fold out of them' (Ivan Vladislavic): the Dead Letters of Vladislavic's Double Negative.' SOAS Africa Department Research Seminar, UK (May, 2012).
'Destinal failure and the archive: letter forms and narrative in Zoe Wicomb and Ivan Vladislavic'. 'Under Construction: Gateways and Walls': EACLALS Triennial Conference, Istanbul (April, 2011).
''Posting' Apartheid South Africa: Vladislavic, Wicomb, Behr', Picture this: postcards and letters beyond text. University of Sussex, UK (March, 2011).
'The Palm-Wine Drinkard and the literary marketplace'. IAS Early Career Summer School, Theory for a Global Age: The Place of Africa?, University of Warwick, UK (July, 2010).
'"As it will profit for both of us": corrective Tutuola and the publication of The Palm-Wine Drinkard'. School of English DPhil Colloquium, University of Sussex, UK (June, 2010).
Publications
Africa, 82.2: 2012. Review article: 'Migratory shape-shifting in African Literary Criticism'. Brenda Cooper, A New Generation of African Writers: Migration, Material Culture and Language, (2008); Arlene A. Elder, Narrative Shape-shifting: Myth, Humor and History in the Fiction of Ben Okri, B. Kojo Laing, Yvonne Vera, (2009); Aedin Ni Loingsigh, Postcolonial Eyes: Intercontinental Travel in Francophone African Literature, (2009); Oyekan Owomoyela, The Columbia Guide to West African Literature in English Since 1945, (2008).
Textual Practice, 25.2: 2011. Book Review: Karen Ikas and Gerhard Wagner (eds), Communicating in the Third Space, (Abingdon, Oxon, and New York: Routledge, 2009).
Fiction
I have short fiction pieces published in Leaf magazine: 'Small' - Leaf 1: June, 2009; 'The Score' - Leaf 2: November, 2009.
Teaching
University of Chichester (English, UG), 2013-
Critical Perspectives (Year 1)
Strategies for Reading (Year 1)
Postcolonial Literatures (Year 2)

University of Portsmouth (English, UG), 2010-
Contemporary Postcolonial Literature: India After the Millennium (Year 2): Unit Co-ordinator.
The Tropical Gothic (Final Year): Unit Co-ordinator.
Literary Prizes (Year 2)
Introduction to Narrative (Year 1)
Literary Theory (Year 1)
World Literature - Block 5: The Idea of Africa (Southern). (Year 1) Lecture and workshop design and delivery.
Rewriting Literary History (Year 2)
Postmodernism and Fiction (Final Year)


University of Sussex (School of English, UG), 2010 - 2012.
Texts in Time (Year 1)
Co-teaching The Literatures of Africa (Final Year - Dissertation course)
Media
Live interview with Nancy Richards for South Africa's SAfm 'Word of Mouth' feature on the Literature show, discussing the blog Africa in Words.
Professional Development
October 2010 - May 2011
ELTP (English Literature Teaching Programme) Training Course, University of Sussex.
September 2010
OJS: Open Access Publishing, University of Sussex
February 2010
Profolio Doctoral Researcher workshops, University of Sussex
Funding/Awards
AHRC Doctoral Scheme funding. Fees and Maintenance.
Harry Ransom Center Doctoral Dissertation Fellowship, University of Texas at Austin, 2011-2012.
AHRC Student-Led Initiative Beyond Text Scheme funding: 'Picture this' Conference, Exhibition and Postcards Competition. £2000 secured (maximum bid), 2010-2011.
Roberts Funding and School of English match-fund, University of Sussex: Picture This Postcards Competition booklet publication of winning entries, 2010.